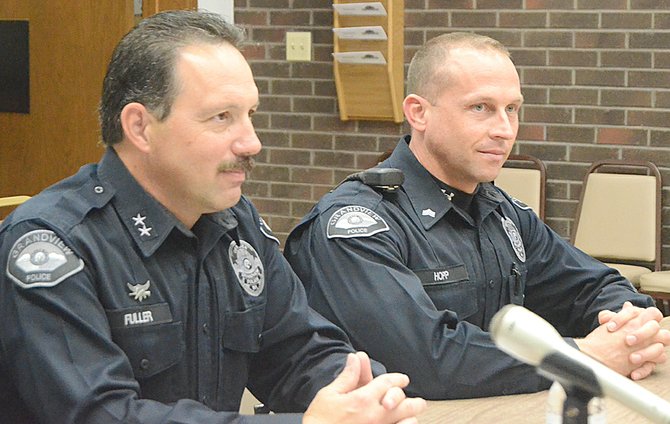 GRANDVIEW – It has been known for nearly two years that Grandview Police Chief Dave Charvet will be retiring at the end of January 2014.
Last night the city council approved a transition plan that will promote Assistant Police Chief Kal Fuller and Sgt. Mike Hopp to the chief's and assistant chief's positions, respectively.
The plan, endorsed by City Administrator Cus Arteaga and Mayor Norm Childress, promotes Hopp on Dec. 1. This allows Fuller 30 days to train Hopp for the position.
Fuller will become police chief on Jan. 1, giving Charvet 30 days to help Fuller learn the role.
Arteaga told the Grandview City Council that he, Childress and Charvet began examining plans for the transition this past June.
"We have implemented good training…we like to promote from within," Arteaga said of the city of Grandview.
He said the city does its best to promote employees from within.
With the two officials being promoted, the Grandview Police Department will need to hire a new patrol officer, Arteaga noted.
He anticipates that position being filled by January.
Charvet and Fuller each wrote a recommendation letter for the individuals to fill their respective roles.
Charvet said Fuller has been employed by the Grandview Police Department for 24 years.
"During that time, Kal has been very active in the community," said Charvet.
Charvet commended Fuller for taking the steps to acquire leadership skills and serving as a team player.
Fuller said, "Mike Hopp has shown his willingness to take on any assignment given him."
Hopp has worked for the Grandview Police Department for 12 years, and "…has made himself available to the citizens."
Fuller praised Hopp for being a leader among his peers, and exhibiting attributes such as honesty, reliability, common sense and a drive to excel.
Arteaga told the council, "We believe we're a team."
He said the decision, because Grandview has a strong-mayor form of government, is ultimately the mayor's decision to make. However, the mayor believes the council is part of the team, added Arteaga, and he wanted council consent on the decision.
Childress, speaking for himself, agreed.
Speaking to Fuller and Hopp, he said, "We vetted you both very closely…I feel very confident and am proud to announce Kal Fuller will be chief of police and Mike Hopp is to be assistant chief."
Councilman Jesse Palacios spoke, as well, stating he "wholeheartedly" supports the decision.
Councilman Mike Bren said he supported the transition plan. "The ease of the transition is so much better this way."
Fuller credits Charvet for having foresight and planning for his own retirement years in advance. "Dave did a good job of keeping the bench full."
Hopp told the council members, "I feel extremely fortunate."
The council approved the transition plan by a 5-0 vote. Council members Joan Souders and Pam Horner were absent.