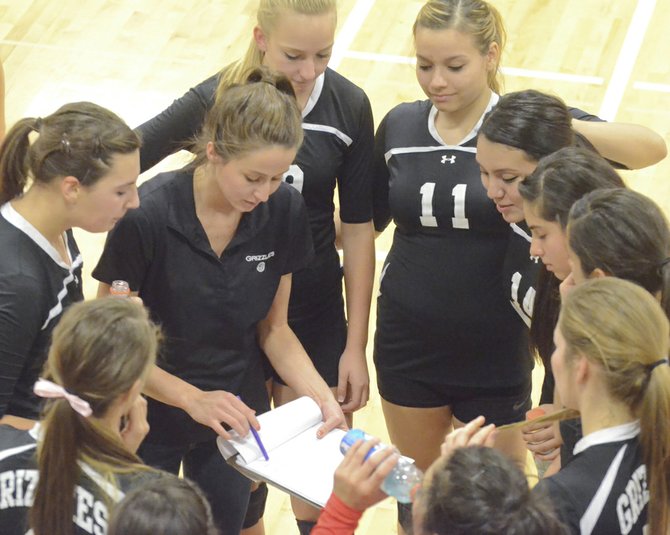 The Sunnyside volleyball team lost last night's home match against undefeated Eisenhower in three sets (25-14, 25-20, 25-17).
Sunnyside had a few rallies, but not one provided the Lady Grizzlies enough momentum to take the lead in the first set.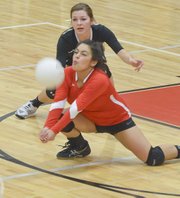 "Eisenhower is a strong team," said Sunnyside Coach Jordyne Jaquish.
There were holes in the defense and the Cadets took advantage of the open spaces.
The Lady Grizzlies also had some difficulty keeping rallies underway due to misdirected shots. Sunnyside scrambled to keep the ball from hitting the floor, sometimes giving up points as a misdirected pass would land out-of-bounds.
Jaquish said the Lady Grizzlies started the first set "playing pretty timid."
In the second set, the Lady Grizzlies played a tighter defense. The team rallied to within two points at one point, but lost the serving advantage when the ball came back and two players failed to communicate regarding the pass.
"We gained confidence in making aggressive attacks in the front row in the second and third (sets)," Jaquish said.
"We made a couple offensive plays behind the10-foot line, which has been a point of improvement in practices up to this point."
Jaquish was pleased that many of the passes were consistent and the dig accuracy has improved. Serve-receives also have improved through the season, she said.
"Last night our back row shined," said Jaquish, noting outside hitters Vanessa Alvarez and Ashleigh Oswalt, with the assistance of libero Mikaela Chavez, did well to defend the ball.
Sunnyside's downfall ultimately came from the service line.
"We missed several of our serves last night," Jaquish noted, stating taking advantage of the opportunity to go on the offense is important in tallying up points.
There were a total of 14 service errors.
Leah Diddens was the only Lady Grizzly to serve up an ace. She was 3-for-4 in the second set.
Amber Cornwell was 3-for-4 from the service line in the third set and Ashleigh Oswalt was 4-for-5 serving in the final set.
Sunnyside (1-9, 1-13) will tomorrow (Thursday) travel to Wenatchee.
Correction: In yesterday's (Wednesday) Sunnyside High School volleyball story, Amber Cornwell was misidentified as Amber Cromwell.