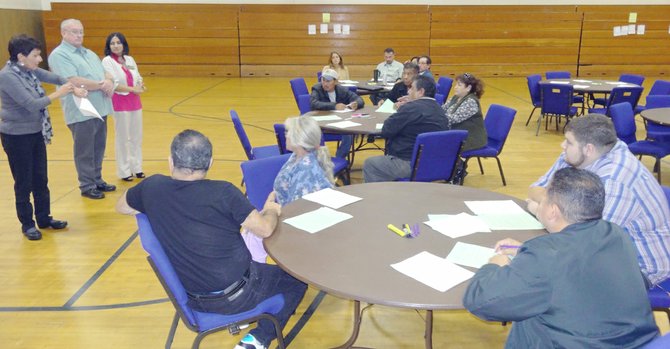 Although he isn't fluent in Spanish, Sunnyside City Manager Don Day was the guest at a Spanish-language event sponsored by Nuestra Casa this past Monday night.
The event was the brainchild of Father Thomas Bunnell of St. Joseph Catholic Church, who knew that Day wanted to reach out to the community.
According to Dr. Esperanza Lemos, director of Nuestra Casa, the event was a chance for Day to introduce himself to community members and get feedback about the needs of citizens.
"There were two themes to the meeting," said Lemos. "The first was what qualities people want to see in the new police chief, and the second was what concerns people have about the city or its services."
The small group of about 15 citizens broke into focus groups and came up with questions for the city manager to answer.
Lemos said that attendees learned a little more about the role of the city manager and how the city is actually run.
"It's useful for people to understand the role of the manager in the city government," said Lemos. "Then they know what he can do for them."
Lemos said people came away from the meeting feeling confident about the city leadership and hopeful about the future.
"He was very open," she said. "He told them, 'I'm here, you just need to call me. That's what I'm here for.' It was a positive message."
Day said the meeting is something he hopes will happen more often.
"I have been wanting to reach out to the community," he said. "Nuestra Casa set up the meet and greet. It was a good event."
Both Day and Lemos hope that more meetings will be held.
"Not everyone will come to a council meeting," said Day. "So I'll try to go out and meet them on their own ground."