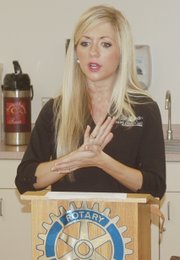 The glamour of making your own beer is a growing hobby among young people and as a result the demand for hops is growing as well. Taylor Gardner knows this first hand as the public relations and media marketing specialist for Hops Direct, LLC and Puterbaugh Farms of Sunnyside.
"Last year, one new brewery opened every day across the United States," she told the Daybreak Rotarians during their regular Wednesday meeting.
"This year the number of specialized breweries' openings has risen to six craft breweries opening across the country every day," she said.
The biggest area for new craft brewers seems to be on the East Coast, while the West Coast is coming in second, according to Gardner.
"The Midwest craft brewery development is pretty stagnant," she added.
"The craft brewers are creating a large supply and demand challenge. The young brewers don't understand why an ingredient they are looking for is not available," Gardner said.
She explained her job is to serve as a liaison between the farmer and the brewers.
"A lot of the new brewers are young people who have never seen a farm and have no idea what goes on behind the scenes," she explained.
Gardner said her job is to create relationships between the brewers and the farmers so the brewers will understand that sometimes a hop variety is simply not available due to unforeseen circumstances, like the weather.
She used this past year's growing season as an example. "The spring started out cold and very wet. Then the hot weather hit hard and fast and lasted for three weeks. While hops like hot weather, the quick onset of heat stunted the cones' growth," she explains.
Gardner, who joined Hops Direct in 2012, said the 2013 crop was considered average.
"The hop cones were only about half size this harvest," she said.
In a good year, farmers can count on six truckloads of hops to fill a drying bay. However, this year, the farmers saw the number reach 12 loads to accomplish the same amount, Gardner explained.
The 2012 Washington State University graduate said she is truly enjoying her work at Hops Direct.

"I enjoy working with the brewers and being able to give them a better understanding of what goes into their final projects,' she said.