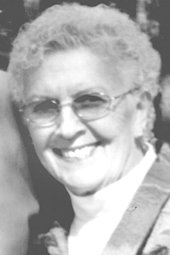 Marvine E. Schultz, 81, a longtime Mabton resident, went to be in the arms of her Savior on Sunday, Oct. 20, 2013.
She was born Oct. 20, 1932 in Glenwood, the daughter of Earl and Ida (Dechand) Odle.
Marvine received her education in Glenwood and graduated with the class of 1950.
On Sept. 12, 1953 she married Elmer Robert Schultz in Goldendale. They together made their home in Glenwood before moving to Mabton in 1960.
Marvine was a cook at Mabton School District and Sunnyside Community Hospital.
Marvine was the glue that kept her family together. She was a marvelous cook, known for her cinnamon rolls, pies and dinner rolls. She also was the family chauffeur and proud mom, taking her children to horse shows, rodeos, sporting events and loved every minute.
The Schultz children thought their family was poor but as they got older learned that the family was rich and blessed with a loving family and that's something money cannot buy.
She was a longtime and active member of the Mabton Grace Brethren Church.
Marvine was very patriotic. She served as a member of the Sunnyside Ladies Auxiliary, spent many hours volunteering at Lower Valley Hospice, Sunnyside Epic and at the Sunnyside School District.
Her birthday wish was to be with her late husband, Elmer and her wish came true.
She is survived by one daughter, Daniece (Bill) Roettger of Mabton; one son, Dean (Marcy) Schultz of Oreana, Idaho; three grandchildren, Robby Sak, Megan Schultz and Cheynne Schultz; two brothers, Russell Odle of White Salmon and Davey Odle of Carson.

She was preceded in death by her parents, Earl and Ida Odle; husband, Elmer Schultz; three children, Dale, Darrin and Darlene Schultz; and one grandson, James Schultz.
Viewing and visitation will be held Tuesday, Oct. 29, 2013, from noon to 6 p.m. at Smith Funeral Home in Sunnyside, with graveside funeral services to be held Wednesday, Oct. 30, 2013, at 10:30 at East Prosser Cemetery.
Those wishing to sign Marvine's on-line memorial may do so at www.funeralhomesmith.com.
Smith Funeral Homes Ltd and Crematory in Sunnyside is in charge of arrangements.