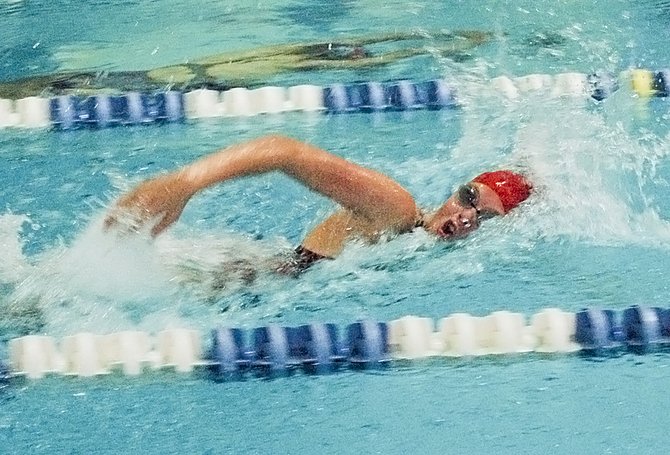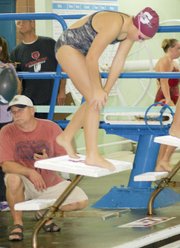 YAKIMA – Considering Sunnyside and Grandview each had just five swimmers at the ready, the two schools' middle of the pack finish at last Saturday's Yakima Valley Championships was pretty impressive.
West Valley, winners of five of the 12 events staged, successfully defended its 2012 Yakima Valley Championships title. The Rams, behind sophomore Caitlin Quaempts' two victories in the 100-yard freestyle and 100-yard backstroke, amassed a meet-best 324 points last Saturday.
Ellensburg, which came away with four first-place finishes, claimed runner-up honors with 273 points.
Prosser, Selah and Eisenhower were third, fourth and fifth, respectively, in the team standings. Sunnyside, with 121 points, placed sixth, followed by Grandview with 54 points. Toppenish, Davis and Wapato – in eighth through 10th place – rounded out the field.
With West Valley and Ellensburg claiming victory in nine of the 12 events, only three other first-place finishes were up for grabs. Two of those went to Sunnyside.
And, junior Cassadie Moore was in on both of them.
She made mincemeat of the field in the 100-yard breaststroke, racing to an eye-popping time of 1:12.43. The runner-up in the 19-girl field, teammate and fellow junior Kalie Bestebreur, clocked a time of 1:21.47. Grandview's Abby Cromwell managed an eighth-place finish in the race with a clocking of 1:25.71.
Moore also teamed with Bestebreur, Lindsay Schilperoort and Summer Hazzard for a first-place finish in the 200-yard freestyle relay. The foursome was three-quarters of a second quicker than the second-place team from Ellensburg, posting a winning time of 1:55.88.
Grandview's quartet of Cromwell, Taylor Ebbelaar, Josie Trevino and Viannei Perez placed eighth in the free relay from the 13-squad field with a clocking of 2:13.25.
With West Valley and Ellensburg combining for nine first-place finishes, and Sunnyside notching two victories, senior Monica Black got Eisenhower the one remaining first-place finish. She won Saturday's diving competition with a score of 144.05. West Valley senior Serena Streich was second with 137.45 points. Only four divers competed Saturday.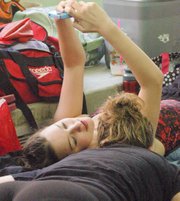 The top finish Grandview garnered at this year's Valley championship meet was Perez's fifth-place performance in the 200-yard freestyle. She sped to a clocking of 2:30.52. The winner proved to be Ellensburg sophomore Sam Denison, who posted a time of 2:09.92.
"Viannei continues to take time off of her 200-freestyle time," Grandview Coach Rita Uribe said of Perez's personal best clocking this past Saturday.
Uribe added that all five of the Lady Greyhounds set a personal best in at least one event Saturday.
Perez also came up with the sixth-best time in the 500-yard freestyle from the 19 swimmers who elected to compete in the ironman event. She posted a time of 6:55.51. Alia Malella of Ellensburg, only a freshman, won with a clocking of 5:37.00.
Grandview tallied a seventh-place finish in the 200-yard IM, from a field of 15 swimmers, thanks to the efforts of Ebbelaar. She clocked a time of 2:48.62. West Valley senior Abbi McGuire was first (2:29.42).
For Sunnyside, in addition to winning the 100-breast, Moore turned in a sixth-place performance in the 50-yard free. She sprinted to a clocking of 27.76 seconds, with her teammate – Hazzard – one spot back in 28.71. The 50-free winner was Taylor Wilson of Ellensburg (26.64).
Hazzard also got the Lady Grizzlies a sixth-place finish in the 100-yard free. She put up a time of 1:02.56. West Valley's Quaempts placed first from the 15-girl field in 54.59 seconds. Schilperoort, who had the ninth fastest time in the 100-free, recorded a seventh-place finish for Sunnyside, as well, in the 100-yard backstroke. Schilperoort set a time of 1:13.92. Quaempts, again, was the winner, this time with a clocking of 1:01.87.
Sunnyside is scheduled to compete at the 3A District meet at Central Washington University in Ellensburg this coming Friday and Saturday, Nov. 1-2. Grandview will be at the same venue for the 2A District meet.