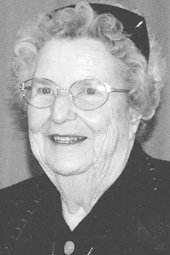 Bernice Nederhood, 95, of Sunnyside passed away on Saturday, Oct. 26, 2013 in Yakima.
She was born Dec. 18, 1917 in Spokane, the daughter of Charles and Ruby (Sutton) Brittenham. In 1920 Bernice and her parents moved to Lind, where she graduated from high school with the class of 1935.
Bernice attended W.S.C., graduating with a degree in social work in 1939. She worked in Medical Lake, Olympia and Chehalis before marring Ralph Nederhood in 1941. Ralph and Bernice moved to Hanford in 1942 and to Sunnyside in 1959.
Bernice attained her teaching certificate in 1968 and taught third grade at Kamiakin Elementary School until 1983. In retirement Bernice and Ralph traveled widely, particularly enjoying the Oregon beaches.
Bernice is survived by one daughter, Kay Nederhood of Yakima; one son, Britt (Helen Keiser) Nederhood of Olympia; three grandchildren, Scott (Tami) McDaniel of Gig Harbor, Mike Nederhood of Seattle and Sherrie (Alan) Croshaw of Richland; and two great-grandchildren, Colby and Chase McDaniel.
She was preceded in death by her husband, Ralph.
A memorial service will be held Saturday, Nov. 2, 2013, at 11 a.m. at United Methodist Church in Sunnyside. Remembrance gifts may be directed to Sunnyside United Methodist Church, Sunnyside PEO, Nouvella Club or the Ralph Scholarship Fund at J.M. Perry Institute in Yakima.
Those wishing to sign Bernice's online memorial book may do so at www.funeralhomesmith.com.
Smith Funeral Homes Ltd. and Crematory in Sunnyside is in charge of arrangements.
More like this story