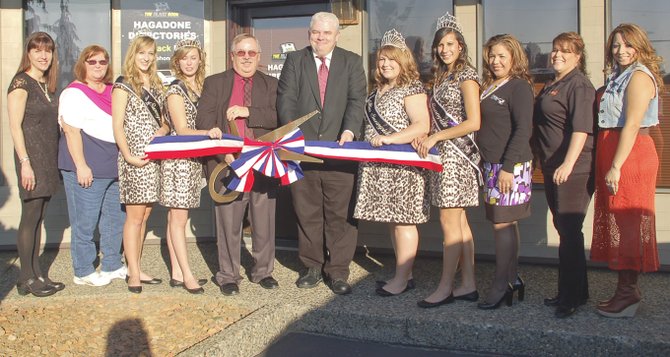 For four years Pat Wise has been encouraging his supervisors to open a Lower Yakima Valley office for the Hagadone Directories' "Black Book" sales.
"I felt we needed a presence in the Lower Valley," said the area sales manager.
Wise, who is in charge of securing the listings for the Hagadone Directories' yellow pages and white pages, said his reasoning for the local office was to help keep money flowing back into the community.
Last May, the administration at the company's Coeur d'Alene, Idaho headquarters finally took Wise's suggestion.
Last Thursday Hagadone Directories with the help of the Sunnyside Chamber of Commerce officially celebrated the opening of its new office at 301 N. First Street, Suite B, Sunnyside.
Wise can now send his sales team out to canvass the area between Union Gap and the Benton County line in search of customers who want to advertise their products and services in the Black Book's yellow and white pages.
"We publish approximately 50,000 books a year, distributing door-to-door and at Chamber of Commerce offices throughout the region," he said.
He said typically sales begin in May and continue through January, with a publication date of February.
"We try to get as many businesses and services listed as we are able," Wise added.
Currently, Wise and account executive Nick Schribner cover the Lower Valley market.
"We are looking to add one more salesperson to our team," Wise added.
Wise said one of the unique features of the Black Book is the annual cover photo contest sponsored by the company. "We are again seeking contributions by local photographers interested in have their photos on our Black Book cover," Wise said.

Persons interested in earning the $500 first prize and photograph credits are encouraged to contact Wise at (509)-260-1151.
"We are looking for local landmark type scenes," he added.