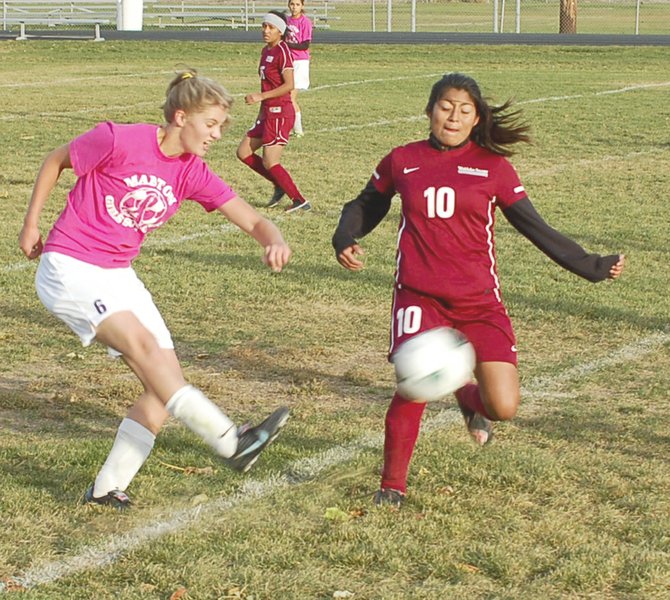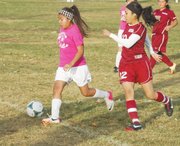 MABTON – The Mabton girls soccer team ended the regular season with a 3-2 victory over visiting Wahluke last night.
Mabton finished its season 4-7 in SCAC play, 5-9 overall. The Lady Vikes do not advance into the postseason.
It was Lady Viking Micki Williams who drew first blood in the 21st minute of the match Monday evening. She received a perfect pass from teammate Maricela Chavez and shot the ball over the Warrior keeper's head.
The teams battled through the remainder of the opening half, but Mabton held the 1-0 lead.
At the 50-minute mark, Wahluke's Gloria Trevino equalized the match. She was left unmarked, according to Mabton Coach Elizabeth Garcia.
Trevino received a cross and took advantage of the scoring opportunity to hit paydirt.
The Lady Vikings were determined and went on the attack. Liliana Ocampo noted a hole in the Warrior defense and booted the ball from outside the 18-yard line into the back of the net to give Mabton a 2-1 lead in the 59th minute.
Esmeralda Garza of Wahluke answered with a goal of her own just minutes later to even out the score again.
The winning goal was made by Lady Viking Diana Leon. She won a 50/50 ball in the air and took what was described as a hard shot at the goal. The Warrior keeper was unable to halt the ball's progress as it sailed between the crossbars to give Mabton the 3-2 victory.
The Lady Vikings dominated the match offensively with 18 shots on goal. Wahluke had just eight shots on goal.
Mabton keeper Ana Flores recorded five saves, while Wahluke's Rosa Meraz recorded 15 saves.
Garcia said she would have liked to have seen more accuracy with the shots on goal, but "…I am happy my girls were able to end the season on a good note."
She credited Meraz for being able to stop the attack so often. "She had some great saves."