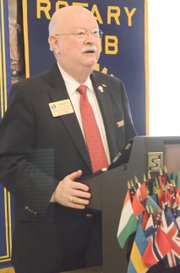 Rotary International Dis-trict 5060 Governor Darrell Blue of Yakima this past Monday spread his message, "The Magic of Rotary," to Sunnyside's Noon Rotary Club members.
His love of magic dates back to his eighth birthday party. His parents hired a magician and he was mesmerized.
"Magic makes the inexplicable things occur seemingly of supernatural power," said Blue. He said he has learned that magic really involves a willingness to make things happen with knowledge.
Rotary, Blue said, performs magic as a service organization. It wasn't intended as a service organization when its founding members first met. However, Rotary International provided the foundation for other organizations like the Easter Seals. Rotarians also made the signing of the United Nations charter possible in 1945, according to Blue.
The first service project completed by Rotarians involved the installment of public toilets for those living in Chicago.
He said there are more than 36,000 clubs around the world.
"The greatest magic that Rotary has done is to fight polio," Blue said, stating he remembers the fear in youngsters while he was growing up because of the disease's effects.
The fight against polio has made the disease nearly non-existent, said Blue.
"My hope is that the word about the magic of Rotary will be spread," he said.
‑ Jennie McGhan can be contacted at 509-837-4500, or email
JMcGhan@DailySunNews.com