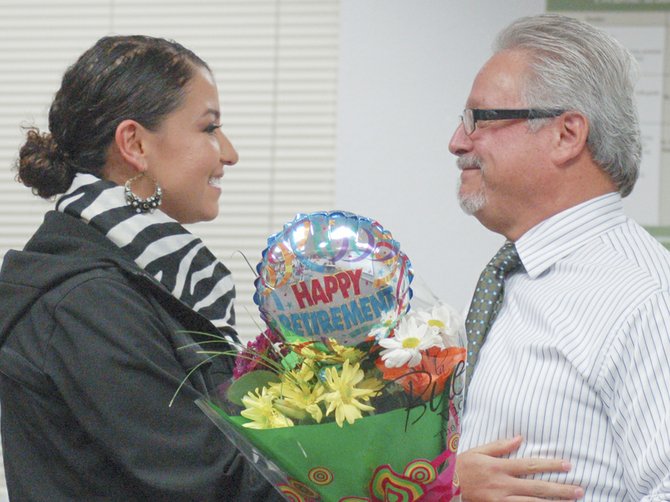 The Sunnyside School Board bid a fond farewell to Director Lorenzo Garza last night, thanking him for his 15 years of service on the board.
Garza announced some time ago that he planned to resign from the school board to seek a staff position in the district. His official resignation letter was accepted by the board at last night's meeting.
Garza's seat on the board, position 3, will remain vacant until after the Nov. 5 election. Mary Rita Rhode and Steve Winfree are vying for Garza's seat.
Former board member Miguel Puente congratulated Garza for his work on behalf of the students of the district. Puente noted that the hours spent by Garza working on school board matters over the past 15 years equals about six straight months of effort.
In response to that revelation, Director Sandra Linde presented Garza's wife, Anita, with flowers for her support of her husband while he worked on the school board.
Director Michelle Perry spoke about how Garza made her feel welcome on the board.
"During my first two years I often passed him notes, asking what an acronym meant or clarifying some jargon," said Perry. "It was like learning another language, and Lorenzo helped me through it."
Linde echoed the sentiment, stating that he had helped her immensely during her two years on the board.
Former board member Joanne Kilian also spoke about some of the memories she had of serving on the board with Garza.
Responding to the praise, Garza said he has enjoyed his time on the board.
"We have lots of stories," he said. "Some made us angry, some made us laugh. But we were always thinking of what is best for the kids in the district."
He spoke of the legacy he is leaving at the district.
"I think we've established a school board that is passionate at all levels," Garza said. "This is a board that serves the children in the district."
‑ Laura Gjovaag can be contacted at 509-837-4500.