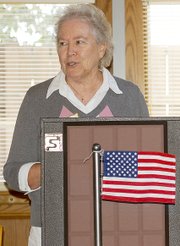 With an extensive background in education, spanning several decades, Mary Rita Rohde made her plea for the support of the Sunnyview Republican Women's Club membership at its monthly meeting held yesterday at noon.
Meeting at Snipes Mountain Restaurant and Brewery, the GOP women listened as Rohde, the founder of Sunnyside's Nuestra Casa, told of how her background in education makes her the right choice to fill a current vacancy on the Sunnyside School Board.
Rohde, who is facing challenger Steve Winfree, a Sunnyside lawyer, for Directorship #3, said she is a fiscal conservative.
"I want to see funds spent wisely," she said.
Rohde is a former teacher, principal and founding faculty member of Heritage University near Toppenish. She is also a former Toppenish School Board member and continues to be a volunteer in the Sunnyside School District.
She founded Nuestra Casa, the Spanish women's educational program, nearly 10 years ago. She recently retired as its executive director.

Rohde also said she is committed to supporting meaningful parental involvement, and will work to ensure that all students learn to their highest potential.

I believe having 80 percent of the graduating class earning their diplomas is admirable, considering only recently our rate was only 49 percent at Sunnyside High School," she said.
"But what are we doing about the other 20 percent of the seniors? Why aren't they graduating? What is holding them back?" Rohde asked.
She said that is where she wants to put her attention.
"I also believe we need to be spending less on consultants and more on educators, in the classroom," she added.
-Julia Hart can be contacted at 509-837-4500, or email JHart@DailySunNews.com