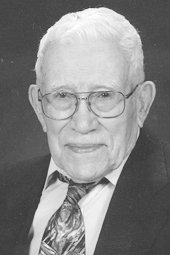 F. Kenneth Taylor, 100, of Sunnyside and a former Prosser resident passed away peacefully on Saturday, Aug. 17, 2013, in Sunnyside.
Ken was born Sept. 9, 1912 in Spokane to Frank and Judah Taylor. Ken was one of three children.
He married Lois Hanek in 1935, and together they had five children. They were married for 59 years, before Lois passed away.
In 1996 Ken married Pearl Pearson in Sunnyside, and they were blessed with almost 17 years together.
Ken tried his hand at farming in Whitstran for several years, but ended up in Prosser working in the maintenance department at Prosser Packers from which he retired.
Ken loved to fish and hunt, gardening, bowling, woodworking and taking care of his roses.
He and Pearl finally retired to Sun Terrace Assisted Living Community in Sunnyside, where he and Pearl enjoyed making new friends, playing bingo and going on group trips together.
He is survived by his wife, Pearl of Sunnyside; two daughters, Joan Carter of Salem, Ore. and Janell (Frank) Beaudry of Kennewick; seven grandchildren; 18 great-great-grandchildren; 15 great-great-great-grandchildren; and numerous nieces and nephews.
He also leaves behind a second family of five stepchildren, Kathy (Sam) Gerla of Ozark, Mont., Gary Pearson of Toppenish, Dave (Diane) Pearson and Jan (Paul) Golob, both of Granger and Terrie (Marie) Pearson of White Swan; 16 stepgrandchildren; 34 stepgreat-grandchildren; and one stepgreat-great-grandchild.
Ken will be truly missed by all who knew him.
He was preceded in death by his first wife, Lois; and his three children, Richard, Kevin and Linda Taylor.
Mass of Christian Burial will be held Saturday, Sept. 21, 2013, at 10 a.m. at St. Joseph Catholic Church in Sunnyside, with internment to follow at Prosser Cemetery. A reception will follow at St. Joseph Catholic School gymnasium in Sunnyside.
Memorials may be made in Kenneth Taylor's name to St. Joseph Catholic Church in Sunnyside.
Neptune Society of Spokane is in care of arrangements.
More like this story