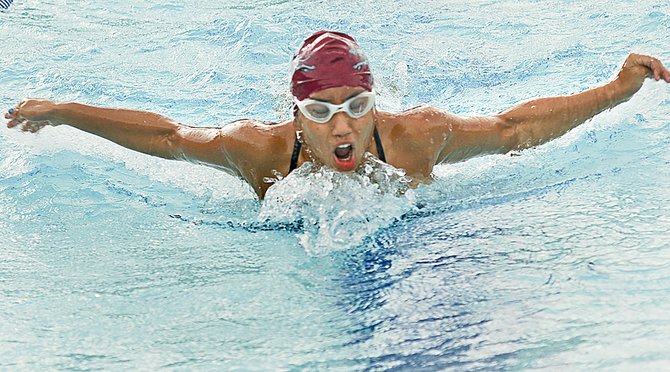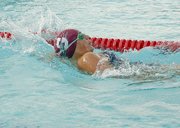 PROSSER- Bounding out in their first league swim meet Tuesday afternoon, Grandview High School's very young team of Lady Greyhound swimmers managed to see five of the eight team members qualify for the season's district meet.
Placing in the top three in the 500 freestyle was Grandview's Viannei Perez, with a second place time of 7:24.66, against Prosser's Danielle McKiernan, who took first with a time of 6:39.79. Perez went on to qualify for district in the 100 butterfly as well, based on her time.
Also placing in the top three was Grandview's Abby Cromwell with a time of 1:29.10 in the 100 breaststroke event. Taylor Wilson of Ellensburg, who clocked a time of 1:15.49, claimed first place honors with Becky Wildman of Prosser in second place with a time of 1:21.95.
"I think we did pretty well against Ellensburg and Prosser," said Rita Uribe, the Greyhounds swim coach.
Even though the larger and more experienced Ellensburg team claimed 116 team points against Grandview, Uribe was pleased with her team's 61 hard earned points. Prosser claimed 81 team points at the CWAC meet.
"Our team is very young," she said. Uribe said her team of freshmen, sophomores and a junior are off to a great season.
She said Greyhound freshman Taylor Ebbelaar qualified for district in every event she entered yesterday.
"So far she is off to a great start for her first year of high school swimming," said Uribe.
Qualifying for district in the 100 breaststroke were Regan Colson, Ebbelaar and Cromwell.
The team will next compete at Selah on Thursday, Sept. 19.
-Julia Hart can be contacted at 509-837-4500, or email JHart@DailySunNews.com