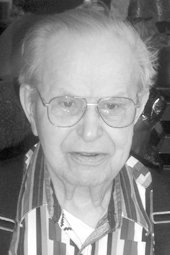 Tom K. Johnson was born the seventh of nine children to Thomas Grover and Zora Johnson in their Wallowa, Ore. home on Feb. 19, 1920 and stopped living in this world Thursday, Sept. 12, 2013, at The Oregon Veterans Home in The Dalles, Ore. He was 93 years old.
Tom was born and raised in Wallowa, and graduated from Wallowa High School in 1938, after which he worked at the local saw mill, pulling lumber on the green chain. He and his best friend, Bob Dougherty, later moved to Prineville, Ore. and worked at a saw mill there for about a year.
Tom attended Oregon State College in 1941; when the U.S. entered World War II. He volunteered for military service in August of 1942. He joined the U.S. Army Air Force and attended airplane mechanic school in Santa Monica, Calif. and flexible gunnery school at Buckingham A.A.F. near Fort Myers, Fla., and was then assigned to active duty with the 92nd Bomb Group ("Fames Favorite Few"), 327th Squadron, stationed at R.A.F. Alconbury Airfield in England, in June of 1943.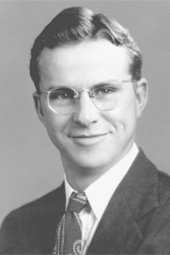 Tom (they called him "Johnny") served on five missions over Europe as a gunner/bombadier on a B-17 Flying Fortress. He and his crew were shot down twice; ditching in the English Channel, their crippled B-17 drifted into a mine field, and when shot down in the North Sea, one of the two life rafts failed to inflate, leaving half the men, including Tom, in the ocean hanging onto their buddies for more than 12 hours waiting for rescue. For his service, in addition to his Airman Wings, he received the European/African Campaign Ribbon, and was also awarded a Silver Star.
Upon discharge from the U.S. Army in 1943, Tom spent several peaceful months on a sheep shearing crew, working up the Snake River by boat from Pasco to Lewiston. He always said that was the most peaceful and enjoyable time of his life.
In the fall of 1943, Tom returned to Oregon State College in Corvallis, where he met and married Peggy E. Buffum in 1946. Always a scholar, Tom earned his Master's degree in animal husbandry, and was primarily responsible for helping to eradicate the swine disease Atrophic Rhinitis. He continued post-graduate work at O.S.C. swine department while also shearing sheep for ranchers in the area.
Six of his eight children were born in Corvallis before the family moved to Sunnyside in 1960. Tom built and managed the Western Farmers Association Research Farm on North Lester Road near Outlook, where his two youngest children were born.
After 17 years with W.F.A., Tom and Peggy moved to the port district farm near Mabton to manage the Port wastewater system. They later purchased a home on Harrison Hill, and Tom was elected as a Port of Sunnyside commissioner and served in that role until 1990, when he returned to the Wallowa Valley to live the remainder of his life.
In Wallowa Tom was a strong advocate for the Wallowa Senior Center, and played an instrumental role in bringing about its construction. He relied on the senior center in his later years, and was very grateful to all those there who helped him.
Tom's second wife, Marian, was his faithful companion, providing the eyesight he lost to a stroke in 1999 until she passed away in 2003. He found final peace in the Oregon Veterans Home. His passing leaves an enormous void in his immediate and his extended Johnson family.

Tom loved music his entire life, and was an accomplished accordion player. His favorite accordion was his 1936 Hohner, which he bought when he was 18 years old, and played regularly for more than 50 years. He brought a lot of enjoyment to those who loved listening to him play.
Tom is survived by his eight children, Judy Johnson and children, Tom (Mary) and Andy Knipe; Janis Westbrook and children, Justin and Jocelyn Allan; Tom Johnson Jr. (Nikki) and son, Joshua Johnson; Bob (Debbie) Johnson and children, Seth (Sara) and Ryan Johnson; Joyce Johnson (Jim) LaBarber and children, Gina and Jamie LaBarber; Jim Johnson; Dan (Liz) Johnson and children, Breanna and Parker Johnson; Peggy Sue Johnson and children, Zachary, Schuyler, Taylor and Abby Wood. Tom also leaves his first wife, Peggy Johnson of Sunnyside: his seven great-grandchildren; his only surviving sister, Maybeth (Walter) Wilson of Louisiana; numerous nieces and nephews; grand and great-grand nieces and nephews; and cousins.
He was preceded in death by his parents, Thomas Grover and Zora Blanch (Burgett) Johnson; five sisters, Ellen (Frank) Alander, Dorothy (John) George, Mildred (Spencer) Trump, Winona (Merritt) Holloway and Grace (Roy) Moores; and one brother, Joe B. (Elaine) Johnson.

Dad, we celebrate you and miss you dearly, and will always love and honor you.
Memorial services will be held Saturday, Sept. 28, 2013, at 2 p.m. at Wallowa First Christian Church, followed by graveside services at Wallowa Cemetery.
Tom will be laid to rest in the Johnson family plot, alongside his second wife, Marian, his mother and father, grandparents, great-grandparents and other family members. A military honor guard will conduct full military services.

Following burial, refreshments will be served at the Wallowa Senior Center.
Bollman Funeral Home in Enterprise, Ore. is in charge of arrangements.