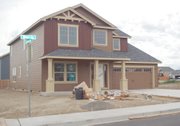 Accounting for well more than half of August's total new building valuation of $1.92 million, Lower Valley Credit Union's new two-story Sunnyside branch/corporate office led the way in permits issued by city building officials last month.
The 10,500 square-foot building is valued at $1.09 million.
The credit union's new building start generated $14,376 in permit fees, accounting for nearly half of the $28,901 in permit fees the city of Sunnyside garnered for the month of August.
Other projects greenlighted by city officials last month included a new, single family residence at 1313 Grape Lane in the Harvest Village development. The 2,364 square-foot home has a valuation of $224,556. The Grape Lane house also received mechanical and plumbing permits last month.
The number of permits issued last month totalled 35, nearly the same as the August 2012 total of 33.
Last month, two of the permits were for Sunnyside's new fire station, with one involving a fire sprinkler system and the other a plumbing permit.
Another city-related project getting the go-ahead in August was a pump station for city wells 12 and 13. The $400,000 project includes housing and piping for the two wells.
Other sizeable projects permitted in August include construction of a new pole building garage at 913 S. 13th St., valued at $55,217, and construction of a garage at 100 Maple Grove Rd., valued at $29,000.
Year-to-date for 2013, Sunnyside officials have issued 305 permits related to building projects.
Sunnyside's new building valuation totals year to date stand at $21.3 million.
In addition, the city of Sunnyside through the first eight months of 2013 has collected $225,130 in permit fees.
‑ John Fannin can be contacted at 509-837-4500, or email jfannin@DailySunNews.com