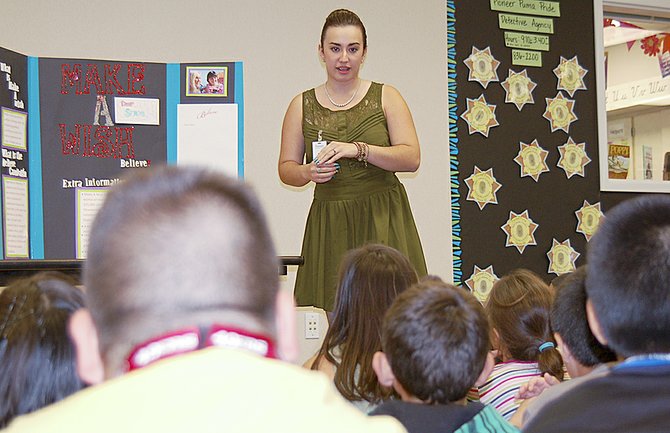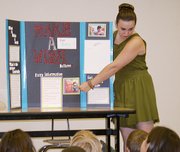 When Jasmine Gonzalez said that the girl pictured on her display had leukemia there was little reaction from the Sunnyside Pioneer Elementary School third graders. But when she explained that leukemia is a form of cancer, an audible gasp could be heard.
Gonzalez explained that the girl was granted a wish by the Make-A-Wish Foundation and was able to meet "Soul Surfer" Bethany Hamilton.
Gonzalez then told the children that they could help grant wishes, and maybe have their own wishes granted in the meantime. The project, part of her high school senior project, will allow local students to help other children.
Gonzalez is returning to the Pioneer Elementary classroom next Monday, Sept. 23, to collect letters to Santa Claus. For each letter sent to Santa, Macy's will donate a dollar to the Make-A-Wish Foundation.
"You can maybe have your wishes come true when you ask for them from Santa, and you can also help other people with their wishes," Gonzalez told the local third graders in encouraging them to put pencil to paper.
The third grade students were brimming with questions. One asked if Gonzalez would accompany the letters to the North Pole.
"No, I won't be going to the North Pole, the letters will go," she said.
Another child asked why Santa lives so far away. Gonzalez said Santa needs his privacy to make toys. When asked how Macy's will deliver the letters, Gonzalez said the company will fly them to the North Pole in a plane.
After finishing her presentation, Gonzalez quizzed the students and handed out prizes for answers.