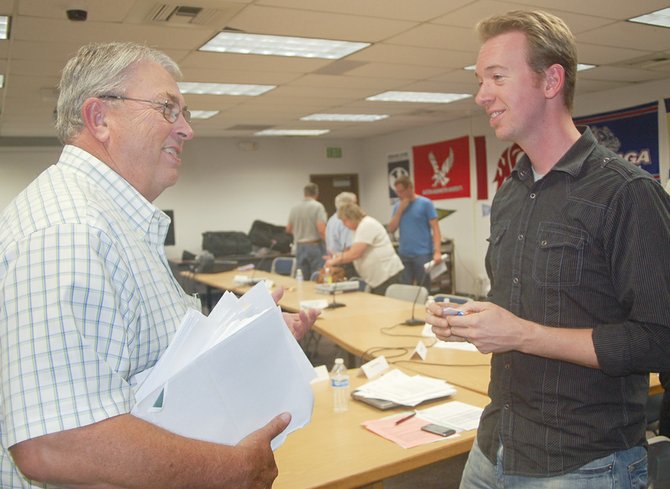 Moving at the speed of nitrates leeching into the groundwater, the Lower Valley Groundwater Advisory Committee took under advisement materials presented by U.S. Department of the Interior hydrogeologist Matt Bachmann.
Bachmann, who was the main speaker at Thursday night's monthly meeting of the advisory group, offered scientific data that has already been collected by the U.S Geological Survey.
"Using the USGS models we can show where the nitrates are and we can predict where they will move next," Bachmann explained.
Using the Yakima model as a reference, Bachmann showed how nitrates have historically seeped into groundwater sources.
"It takes decades, not months for the nitrates to move into the groundwater," he explained.

"It will take years to see the results of any reverse methods we adopt now," Bachmann added.
"The material is available to show the progress of the nitrate conditions in the Yakima model," he told the members of the groundwater advisory group.
"Using this model we can predict where the nitrate contamination may next occur," he added.
Bachmann's USGS proposal would answer a lot of the questions the advisory group is now facing, said Kirk Cook, chair of the data collection and monitoring subcommittee.

Cook asked that his group be allowed to work with Bachmann to see if his is the right model to use for creating containment of nitrate contamination.
This is not a short term project, said Bachmann. "But I believe it offers the best use of scientific data to describe and identify the groundwater contaminants.
"It would take upwards of 18 months to get the project off the ground, but we could be finished with the data in three years depending on what we find," Bachmann said.
The cost for creating a geological survey of the Lower Valley area would be approximately $1.6 million.
The advisory group will hear from Cook's subcommittee in November to determine if the USGS plan is one the group should pursue in determining how best to bring the Lower Valley groundwater nitrates situation under control.

‑ Julia Hart can be contacted at 509-837-4500, or email JHart@DailySunNews.com