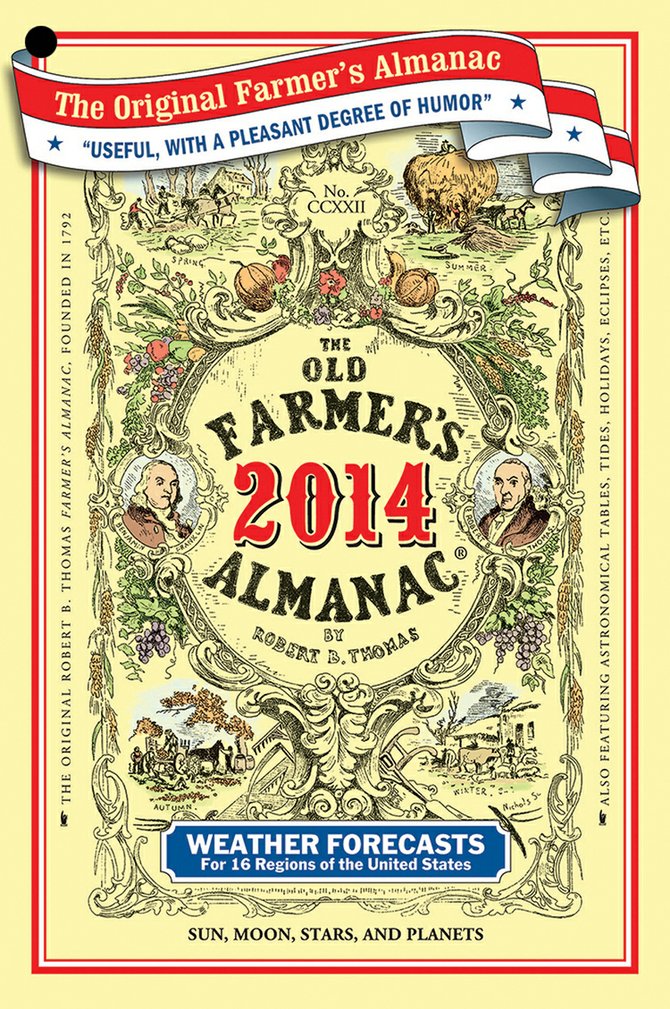 The 2014 Old Farmer's Almanac includes the usual weather predictions by month, a few fascinating articles and recipes.
Now in its 222nd edition, the Old Farmer's Almanac is also launching a monthly e-book edition to complement its annual edition. But fans should rest assured: the company has no plans to discontinue the annual with its predictions of weather and trends.
Speaking of, agricultural trends for 2014 include seaweed on farms for use as food and biofuel and automatic harvesting of strawberries and oranges.
Recipes this year focus on pies and beets. The pie recipes start with a crust that can be used for pies both sweet and savory and moves to sharing all the fillings that make pies the perfect one-pot dish.
Beet recipes were culled from the 2013 contest, and include Beets and Potato Au Gratin and Sweet Cherry Tomato and Beet Crostini.
Other articles focus on astronomy, crop rotation and beneficial insects.
And there is the weather prediction. In the "Intermountain" area that includes Sunnyside, the almanac predicts a snowy November and December with patches of rain. January and February will be wet with some snow and a mixed March: sunny the first two weeks, snow and rain to finish out the month.
The Old Farmer's Almanac says April and May will be warmer than average with the rest of the summer a bit cooler and leading into a wet fall.
The 2014 Old Farmer's Almanac has a cover price of $6.99 and can be found in stores all over or can be ordered online at almanac.com. Digital and monthly e-book editions are also available online.