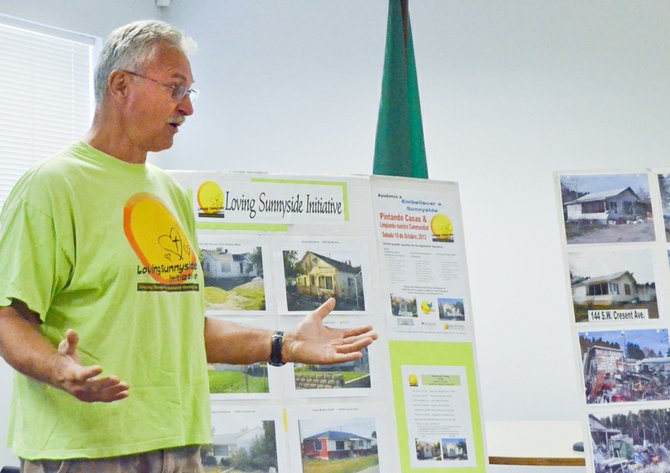 Community members who represent various sectors within Sunnyside yesterday discussed efforts and ways to help Sunnyside United/Unidos create a safe and nurturing environment for local youths.
Sunnyside United/Unidos's vision is to make Sunnyside "…a safe and healthy community where young people are equipped for success and a bright future."
Focusing on the vision and mission of Sunnyside United/Unidos, Sunnyside Deputy Police Chief Phil Schenck talked to the group about its next steps.
"I don't like to attend meetings to attend meetings…I like to see results," said Schenck, stating there are others like him who are uncomfortable with the process to get the results that are sought.
He recognizes Sunnyside United/Unidos has made some headway, having developed an action plan, a mission statement and a structure. The group has also obtained grant funding and developed a logo.
Schenck said having a mission statement and vision is not always enough if those involved in a group like Sunnyside United/Unidos do not fully realize what the mission and vision are.
Sunnyside United/Unidos, he said, was formed to address a number of problems. They include drugs, alcohol and tobacco use, gangs, bullying, student learning, jobs, healthy businesses, recreation, racism, mental health and a number of other issues impacting the community.
"This group is responsible for trying to come up with plans to address the issues," said Schenck, stating Sunnyside United/Unidos has the responsibility to influence others.
Looking at the faces gathered, Schenck said there was no representation for the migrant community. That, he said, is a part of the overall community that should be represented.
"But, it shows the need for improved communication, learning how to communicate with different communities within the community," said Schenck, noting there are few individuals involved in Sunnyside United/Unidos who are over the age of 50 as well.
Schenck said learning to communicate with different cultures and individuals with different mindsets is of utmost importance.
Communication will help develop a sense of awareness and get people more engaged.
Using the example of a car crash, he said no one in the room was engaged in what was going on outside the meeting. However, a car crash might create awareness of what was happening outside. Awareness doesn't equal being engaged. It is when individuals have something personal at stake, like a family member involved in the car crash, that there is engagement.
"It's human nature," said Schenck, stating people like to stay within their comfort zones.
"We need to at least get people to a stage of awareness," he said to those gathered for the Sunnyside United/Unidos meeting.
Outlining how to create change, Schenck said, "The pain of where you are is greater than somewhere else."
Sunnyside United/Unidos is a powerful coalition, Schenck said, and a sense of urgency must be created to create change. A vision for change, communication of that vision, the removing of obstacles and creating short-term wins are some of the steps necessary for promoting change. To sustain any changes made, Schenck said it is important to build upon them and anchor them in the culture of the community.
"I want a movement that is effective..my plea is that we have to take action," he said.
In addition to Schenck's presentation, Leroy Werkhoven of Loving Sunnyside Initiative told the group about its next housing rehab project, stating Loving Sunnyside Initiative is a way to connect the community and neighborhoods.
Sunnyside's recreation coordinator, Megan Razey, said she is seeking volunteers to help with programs at the community center and she is hoping to get various groups in the community to work together.
Sunnyside United/Unidos members also heard about a mentorship project idea that would connect young adults with youth in the community. That idea was presented by Sarahi Bravo of Sunnyside Transformation Yakima Val-ley.