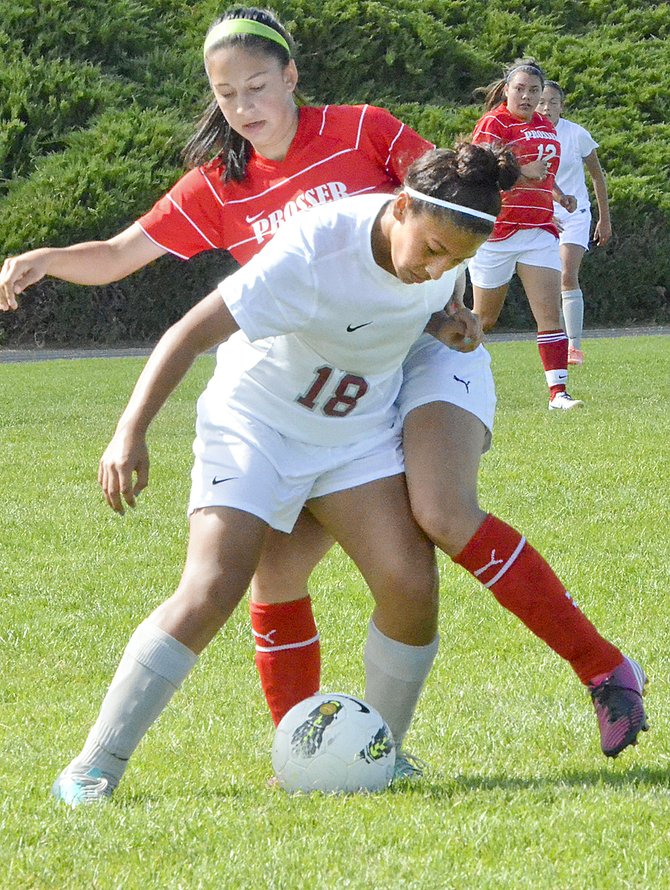 GRANDVIEW – This past Saturday's soccer match between Grandview and visiting Prosser started out quite disappointing for the Lady 'Hounds.
Prosser won the match 6-1, but Grandview Coach Anne Holden said the Lady 'Hounds began the match with "an inauspicious" start.
The Mustangs tallied two goals in the first 21 minutes. The first goal came in the seventh minute when Jasmine Lemos got the ball between the crossbars.
In the 21st minute Jamie Fassler scored on a soft goal.
"We allowed some very soft scoring opportunities," said Holden, stating the Lady 'Hounds weren't fighting for the ball.
Grandview's Alyssa Fa-jardo brought the team back into the fight, scoring on a long shot off an assist by Biviana Rivera at the 30-minute mark.
Despite not scoring again, Holden said Nena Milanez, Rivera and Aressa Trevino exhibited "great combination play" that could have resulted in additional scoring.
But it was Prosser that was able to slip the ball into the back of the net again before the end of the opening half. Matti Boyle of the Mustangs scored with just three minutes remaining on the clock.
In the closing half, Lemos, Fassler and Hannah Johnson of Prosser clinched the match with three more goals.
"We showed some glimpses of our potential, but in the end it is quite obvious that we, as a team, are not where we want to be in order to challenge the stronger programs in our league," Holden said.
Grandview had eight scoring opportunities, but was denied by Prosser keeper Izzy Thornbugh seven times.
Jamila Shafer and Madison Trevino of the Lady 'Hounds combined for four saves. The Mustangs had 10 shots on goal.
Tomorrow (Tuesday) Grandview (2-4) is back in action at Toppenish to open league play.
‑ Jennie McGhan can be contacted at 509-837-4500, or email JMcGhan@DailySunNews.com