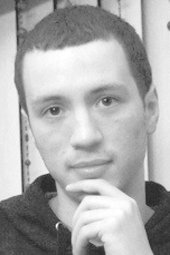 Ramiro Valencia, 21, of Sunnyside died on Sunday, Sept. 22, 2013, as a result of injuries sustained in a long boarding accident, a hobby he greatly enjoyed.
He was born July 9, 1992 in Prosser, the son of Leticia Gutierrez and Ramiro Valencia.
He graduated from Sunnyside High School in 2010, where he was a member of the basketball team. He was currently enrolled at Columbia Basin Community College completing his Associate degree. His dream was to transfer to the University of Washington to obtain his Bachelor's in business.
 Ramiro loved doing many outdoor activities, including snowboarding, tubing, boating and camping. He was very adventurous, outgoing and never afraid to try anything new. He also liked playing basketball, video games and hanging out with his family and friends.
We will always remember his infectious smile and his loving and caring personality.
 Ramiro is survived by his parents, Leticia Gutierrez and Ramiro Valencia; his siblings, Cristian Valencia and Lizeth Valencia, both at home; his maternal grandmother, Marcela Gutierrez; his paternal grandfather, Ramiro Valencia; his eight aunts from his maternal side of the family, Rosario (Jose) Sandoval, Maria (Moises) Hernandez, Irma Gutierrez, Claudia (Juan Luis) Pascual, Lina Gutierrez, Leonora Gutierrez, Araceli Gastelum and Diana (Neri) Tellez; numerous cousins, Isai, Ramon, Abraham Hernandez, Jesus and Carlos Gastelum, Ulysses Gutierrez, Ammishadai and Genesis Sandoval, Edgar, Joshua, Yahir, Amiel and Isahella Pascual, Caleb Tellez, Yesenia Arredondo and Luis Valencia; and his paternal side of the family, his aunt, Beatrice Valencia, Hugo Valencia, Santiago Valencia and Kiko Valencia.
He was preceded in death by his grandfather, Gilberto Gutierrez; and cousin, Alfredo Arredondo. May they all rest in peace until we meet again.
Visitation will be held today, Sept. 24, 2013, from 1 to 8 p.m. at Valley Hills Funeral Home in Sunnyside, with burial to follow on Wednesday, Sept. 25, 2013, at 11 a.m. at Lower Valley Memorial Gardens in Sunnyside.
Valley Hills Funeral Home in Sunnyside is in care of arrangements.
More like this story