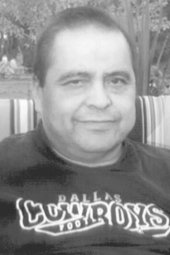 Ricardo "Ric" Miranda, 52, of Prosser entered into rest on Saturday, Sept. 21, 2013, at his home in Prosser, surrounded by family.
He was born Nov. 10, 1960 in Brownfield, Texas to Luis and Lupe (Paz) Miranda. He was raised and educated in Sunnyside, and graduated from Sunnyside High School in 1980.
Ricardo and Helen Aparicio were married on July 18, 1986 in Hermiston, Ore. The couple made their first home in the Tri-Cities and then settled in Prosser in 1990.
Ric worked in retail sales and management. He started with Frank's Chevrolet in Wapato and most recently was finance manager for Prestige Motors in Union Gap.
Ric loved all sports in general and was an avid Dallas Cowboys fan. In his younger years, he enjoyed riding dirt bikes. Most of all, he loved spending time with his family, especially his grandkids.
Ric is survived by his wife, Helen Miranda; his children, Devina (Ramon) Riojas, Ashley Miranda, Jeremy Miranda and Emmitt Miranda; his grandchildren, Kymbr-Li Riojas, Kane Riojas, Kash Riojas and Austin Miranda, all of Prosser; and numerous brothers, sisters, nieces and nephews.
He was preceded in death by his parents; and three siblings.
Memorial services will be held Thursday, Sept. 26, 2013, at 11 a.m. at Prosser Funeral Home.
You may leave an on-line message of condolence for the family at www.prosserfuneralhome.com
Prosser Funeral Home is in charge of arrangements.
More like this story