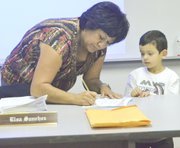 MABTON – At Mabton Senior/Junior High School there is slow, but steady improvement.
So, too, is there improvement in state test scores for Artz-Fox Elementary School students.
That's according to principals Caleb Oten and Angie Ozuna, who spoke last night at the Mabton School Board meeting.
The Washington State Office of Superintendent of Public Instruction (OSPI) report card shows 10th grade reading scores are not as good as during the 2010-11 school year. But, more than 55 percent of students met reading standards this past spring. That is an improvement of about 10 percent over the scores from the 2011-12 school year.
Oten said seventh grade scores are "…trending up in each test category."
OSPI reports more than 54 percent of students met reading standards, nearly 44 percent met math standards and nearly 62 percent of the seventh grade students met writing standards this past spring.
Oten told the school board he was examining the results, and learned there were a large number of tests that weren't taken for writing.
"I noticed huge improvements in the ninth grade math EOC (end of course exam)," said Oten.
He said looking at the data he thinks both ninth and 10th grade math scores improved considerably because the number of students taking the tests increased.
Mabton Superintendent Minerva Morales said his assessment was correct. She said more students were provided an opportunity to take the tests, which are required to graduate.
"Again, there are large blocks of students who didn't take the tests," Oten said, stating he is looking for solutions to ensure that all Mabton Junior/Senior High School students are present on days when the High School Proficiency and EOC tests are administered.
"If we teach them the right stuff, they will learn it," said the first-year principal, stating he is evaluating ways to improve learning as well as improving state test results.
Ozuna, who is the principal at Artz-Fox Elementary School, said the report card shows significant improvements in three of the four grades tested.
She said the number of students scoring at a level one (the students who need significant intervention to meet standards at a level three) decreased. Many of those students reached a level two this past spring and are closer to meeting state standards.
Ozuna explained the group of students changes each year when looking at grade level data, but the staff at Artz-Fox Elementary School is working on identifying "target students with the goal of grouping students at similar levels."
She said the staff wants to provide the students in specific target groups with added intervention to better reinforce the areas of academic progress where students scored low.
At the third grade level, Mabton's Artz-Fox Elementary School students fared well in reading with nearly 71 percent of students meeting standard. Nearly 64 percent of those students met math standards.
In math and writing the fourth grade students didn't do as well. Just fewer than 24 percent met standard in math and a little more than 20 percent met standard in writing.
Reading score results show 52 percent of fifth grade students and 53.5 percent of sixth grade students met standard.
Approximately 32 percent of the students in each of those grades met math standards.
Fifth grade students last spring were also tested in science and more than 57 percent of the students met state standards.
Both principals said they will be working with staff in professional learning communities to address the needs of the students in the Mabton schools.