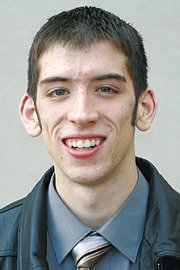 Looking back at the mentors in my life who played a role in my decision to become an educator, many faces at Sunnyside High School quickly come to mind.
I think of Dave Martinez, who taught me that problems require courageous problem-solvers, and anyone can choose to become one.
I think of Sandy Schilperoort, who my mom believes sometimes loved me when it was even hard as a mother to do so.
Ryan Maxwell also comes to mind. I'll think of my interactions with him throughout high school, and how he made it clear to me that a student can change course and develop good relationships with administrators no matter what mistakes they made previously.
There were many talented people like James Wise, who showed that teaching really is an art.
And the more I visit different school districts the more I realize that people like Ron Rowe, Christina Moore and John Hulick are too uncommon. Most people don't give such large portions of their time to building relationships with students and providing extra support outside of school.
There were also great people like Wayne Cone, George Paulus and Bruce Walker, who just seemed to sincerely love what they did.
I had teachers like Dan Thomas that were challenging but fair. There were even people that I didn't have a real reason to get to know (like a class), but their desire to have meaningful relationships with students drew me to them, like Karen Hutchinson or Ryan Kannely.
And, there are certainly many others I could mention.
I had to leave Sunnyside to appreciate the people who serve our families and communities. I didn't understand the implications of working in a low-income school district. I've heard too may discouraging comments about the inability of such students to succeed. I joined Teach for America and made education my profession, in large measure, because of the examples of these leaders in Sunnyside.
All students simply need high expectations and love shown through service, as well as teachers and administrators willing to hold them accountable to standards they know these students need to reach to be successful in life. Again, the staff at SHS gave me a good understanding of what that looked like.
When I was a senior in high school I led the majority of school district personnel in the Pledge of Allegiance at an event before the school year. As I walked off the auditorium stage I realized I had just missed a rare chance to thank that group of people for all they had done for me and my friends. I still sometimes think of that missed opportunity.
Hopefully, I can make up for that to some degree by sharing through this letter how I will long remember the great people at SHS. Thank you for all you did, and continue to do, for the students of Sunnyside.
‑ Jonas Linde is a 2008 graduate of Sunnyside High School.