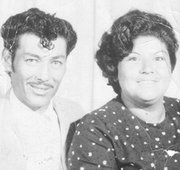 Maria Eluteria "Gramita" Rivera, 74, of Mabton came to rest at her home on Tuesday, Sept. 24, 2013. On that day, Sept. 24, 2013 the Heavens sang as another angel gained her wings.
Maria was born Feb. 20, 1939 in Hondo, Texas, the daughter of Antonio and Luisa (Gonzalez) Ramirez.
Maria enjoyed gardening, crossword puzzles, novellas and driving her family crazy.
She was a very hardworking woman, who loved to help others.
Maria is survived by her children, Juan (Debbie) Rivera, Iris (Rob) Boyed, Abel (Irma) Rivera, Martha (Joel) Lubben, Suzannah (Miguel) Avalos, Araseli Rivera, Jose (Blanca) Rivera, Christopher Rivera and Manuel Bernal; 35 grandchildren; 60 great-grandchildren; her siblings, Carmen, Concha, Esperanza, Lupe and Antonio, all of Texas; and numerous nieces and nephews.
She was preceded in death by her husband, Abel Rivera; her parents, Antonio and Luisa Ramirez; brothers, Jose and Phillip Ramirez; son-in-law, Joel Lubben; and grandkids, Rolando and Orlando Rivera.
Funeral services with recitation of the Holy Rosary will be held Friday, Sept. 27, 2013, at 10 a.m. at Smith Funeral Home in Grandview, with burial to follow at Mabton Cemetery.
Those wishing to sign Maria's on-line memorial book may do so at www.funeralhomesmith.com.
Smith Funeral Homes Ltd. and Crematory in Grandview is in charge of arrangements.
More like this story