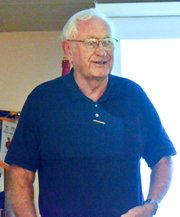 Sharing his experiences with members of Sunnyside's Daybreak Rotary Club recently, Sen. Jim Honeyford said he was overwhelmed with the opulence and all that there was to see while on a recent sightseeing trip to Russia.
He and his wife Jerri visited many of Moscow's well-known locations, like the Kremlin and Red Square.
They saw the location of Lenin's tomb and visited the Gum (pronounced goom), a shopping center.
Honeyford, who emphasized the overseas trip was a personal vacation and was paid for by the couple, not taxpayers, said he was impressed with the modern shopping center, which is now much like a mall in the U.S.
Another stop for the Sunnyside couple was St. Basil's Cathedral, one of Moscow's most recognized landmarks. There is a chapel beneath each of the domes on the cathedral, bringing the number of chapels to nine.
Honeyford said the artistry in the cathedral captivated him. "I think I took a picture of everything," he said.
In Moscow the city's financial center is not centrally located. Instead, it is located on the outskirts of the city. Honeyford found it interesting that the buildings are of several different architectural designs.
"The money is in Moscow," Honeyford said, stating the unemployment rate in the city is nearly non-existent.
Also in Moscow is a lake that inspired "Swan Lake," the popular ballet composed by Tchaikovsky. There, the Honeyfords had an opportunity to see the gift from President George H.W. Bush, presented to Russian officials. The gift was a bronzed family of ducks, although they were supposed to be swans.
The Honeyfords also learned that Russia's president, Vladimir Putin, does not live in the presidential palace. Instead, he uses a helicopter to fly into Moscow for official business.
Mrs. Honeyford told Rotarinans the couple learned the people do not like Putin.
She said the people are especially concerned that Putin's helicopter will cause damage to the Kremlin walls because of vibrations.
The couple also visited with Russia's minister of culture while in Moscow.
From Moscow the couple ventured to St. Petersburg, where they were able to tour Peterhof Palace.
The palace is filled with signs of wealth from gold finishes to inlaid flooring. There are elaborate gardens filled with fountains.
"No wonder there was a revolution," Mr. Honeyford said, sharing his feelings about Peter the Great and the Tsardom, Russia's form of government before the revolution.
He said seeing the palace made him believe all of Russia's wealth was spent on the décor of "Russia's Versailles."
"It was mind-boggling," said Honeyford.
Mrs. Honeyford said of the experiences, "It was anything but drab."