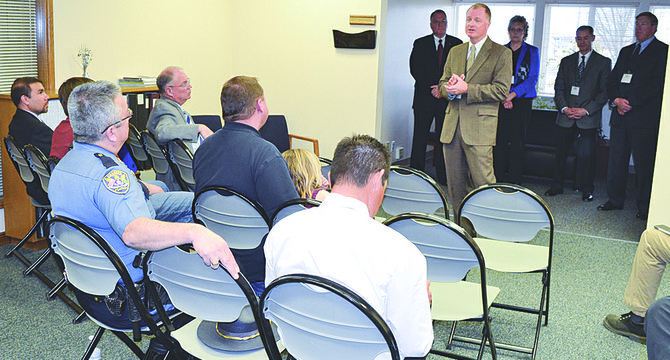 Two years after its last one retired, the city of Sunnyside will hire a new police chief within days – perhaps even hours.
Last night, Tuesday, the public had a chance to meet five finalists for the post during an open house at Sunnyside City Hall.
The finalists hailed from Florida, the Tri-Cities and points in between. All have more than two decades of law enforcement experience and all five called for more transparency and accountability if hired for the post.
All are eminently qualified, says City Manager Don Day, who will make the hire.
"In this group is your next chief of police," Day told a crowd of about 25 community members.
The five finalists are:
-Al Escalera is a captain with the West Richland Police Department and prior to that served with the State Patrol for 26 years.
Escalera, a sergeant with the State Patrol at the time of his retirement, worked for the agency in Yakima County. His experience with the State Patrol included leading a task force and working in the Sunnyside area.
He says Sunnyside and its police department have growth opportunities. He says that potential and the demographics of the community make the post attractive to him.
-John Powell has served as police chief for communities in South Carolina, North Carolina and Alabama. Most recently, he worked as an independent contractor in Afghanistan with the Department of Defense
Powell, who has also headed Florida's division of alcohol beverages and tobacco, says he is seeking Sunnyside's post because his family wants to relocate to the west coast.
"I've worked every position," he says of a 30-year career in law enforcement that included stints as a corrections officer, patrol officer and supervisor.
-Rick Needham currently operates a private investigation firm in Colorado. Before that he was police chief for the cities of Monta Vista and Alamosa, Colo.
Needham said he rose through the law enforcement ranks, with experience as dispatcher, jailor, police officer, investigator, detective and served on a drug task force.
A finalist for Sunnyside's police chief post during a previous search last year, Needham said he worked with other officials in implementing Colorado's marijuana laws. He says that experience could be helpful here, as Washington goes through a similar process.
-Arl Farris was most recently embedded with U.S. Special Forces in Afghanistan as an advisor/mentor for that country's national police.
Prior to that he worked for the Los Alamitos, Calif. police department as an operations captain responsible for the detective division and was police chief for San Marino, Calif.
Farris, who has also served as a bodyguard for Hollywood celebrities, said he arrived in Sunnyside a week ago, as soon as he knew he would be a finalist. He and his wife have a son, who recently graduated from West Point and now serves at Fort Lewis.
-Susan Shultz was also a police chief finalist during last year's search.
She is currently working with the Yakama Nation as an investigator for cold cases and missing persons.
Her experience also includes serving as commander and interim chief for the Bainbridge Island police department.
Shultz said she has been drawn to Sunnyside since her visit here last December as a finalist. "I am here because of the people," she said. "It has a feel that it could be home."
Next steps
Day, who earned a Purple Heart while serving with the New Mexico State Police, says the five finalists stood out from a field of 18 candidates because of their education and experience.
"Professional leadership, that's what I'm looking for," he said later last night. "
Day said the finalists will have a series of interviews today. Polygraph tests and background checks are also planned.
A decision may be reached as early as tonight, he said, or early next week at the latest.