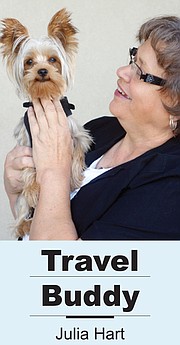 I had nearly given up on spring's arrival this year when it burst forth with all the dandelions I can possibly wish for. It is not that I am a fan of the sunny little weed, but its arrival reminds me that I need to tie on my yard shoes and finally uncover the flower and garden beds in my otherwise ugly yard.
I suspect it might be too late to do much with the one rose bush I have left in my yard, but surely I can throw down some lawn weed and feed before the other weeds get too invasive.
I was counting on my live-in daughter, Sarah, to help with the flower beds, but she thought her school spring break was a time for her to get away.
So Buddy and our circus-sized yard of pets will have to fend for ourselves if we expect to have our yard ever featured on the pages of Better Homes and Gardens. Of course, I know that won't happen, but a girl can dream.
I'd be thankful if Buddy and his pals' lawn mines were confined to one small corner of the yard. Buddy always seems to look apologetic when I step out into my little back yard. I know he has tried to get Winston and Georgia to control themselves, but they are dogs after all.
"What are you going do," he seems to be saying to me.
Still, I am in the mood to enjoy an evening in the back yard, so during the next couple days, if it doesn't rain, I plan on uncovering my tulips, and lilies of the valley and tiny little purple violets.
Buddy will, of course, keep me company and will probably try to distract me when I get a little excited about yet another dandelion infestation.
Maybe I'll just pull out my favorite lawn chair, grab a sweater and relax with a beverage and chat with Buddy about the time of day. I'm sure we can make a nice list of yard jobs to tackle.
We'll just wait for Sarah to get home and let her do the heavy work.
After all, she'll be rested after her spring break. Right?