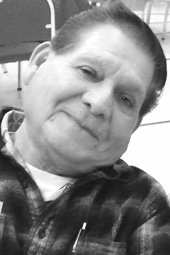 Aaron Hernandez Sr., 80, of Sunnyside passed away peacefully surrounded by those who loved him, in Seattle on Saturday, March 29, 2014.
Aaron was born Jan. 12, 1934 in Elsa, Texas to Encarnacion and Refugia (Yado) Hernandez. The early years of his childhood were spent working with his family around Texas, until in 1944 the Hernandez family moved to eastern Washington. They resided at Yakima Chief Ranch in Mabton, and would follow the work all around the western U.S.
Aaron was very mechanically savvy and found his passion with cars at a very early age. He had various jobs all around Washington and Oregon, from working at Hanford to helping with the construction of the Priest Rapids Dam. Eventually he would come to work at Cliff's Battery Shop on Woodin Road, bringing with him all the experience to the shop. He would work there until the shop burned in 1975.
Those who knew Aaron, even those that were just acquaintances, knew that family was the most important thing to him. Aaron came from a large family and raised five children with his wife, Rosita.
He was known for going to his siblings' homes and doing work for them. He was a very strong man, from working in the labor industry to battling his health throughout his life.
Aaron was known for his large compassionate heart, his work ethic and his straightforward personality.
Aaron is survived his loving and devoted wife, Rosita (Moreno) Hernandez; two sons, Aaron Hernandez Jr. of Richland and Adrian Hernandez of Yakima; two daughters, Annabelle Hernandez of Sunnyside and Elsa (Kevin) Sagen of Yakima; by his two grandsons Matthew and Zachary, both of Yakima; one brother, Efrain Hernandez of Sunnyside; two sisters, Trinidad Yanez of Zillah and Maria Magdalena Muniz of Madras, Ore.; and numerous nieces, nephews and cousins from Washington, Oregon, California and Texas.
Aaron was preceded in death by his parents; four brothers, Joaquin, Estanislado (Stan), Luis and Facundo; one sister, Angelita Perales; and his daughter, Nora Hernandez.
A celebration of life service in honor of both Aaron and his loving daughter, Nora Hernandez who passed away in November of 2013, will be held Saturday, April 5, 2014, at 2 p.m. at Sunnyside Community Center.
The family would like to thank all of the family members that came to visit both Aaron and Nora while they were in the hospital, and for the immense amount of love and support being given to us in our time of need.
Those wishing to send condolences may do so at www.valleyhillsfh.com.
Valley Hills Funeral Home in Sunnyside is in care of arrangements.