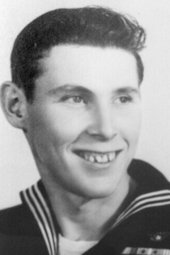 Robert "Bob" Lightbody, USN (Ret), 79, of Shelton passed away on Friday, March 28, 2014, at Capital Medical Center in Olympia.
Bob was born July 8, 1934 in Tumwater to Everett Lightbody and Norma (Bach) Lightbody.
He was raised in both Tumwater and Sunnyside. He graduated from Sunnyside High School in 1952.
Bob enlisted in the U.S. Navy that same year at the age of 17.
On Jan. 16, 1962 he married Lorraine Cooper in Coeur d'Alene Idaho.
He served his country in the Korean and Vietnam wars as a Radio operator in VP-17, VP28, V-50 and VP-47 Squadrons. Through his numerous deployments the couple lived in Oak Harbor, as well as San Diego and Milpitas, Calif.
After his retirement from the U.S. Navy as a senior chief petty officer, Bob was employed by Varian and Associates as a radiation technician for 23 years.
After retirement the couple moved from Olalla to Coupeville and Shelton looking for that "perfect" spot.
Bob enjoyed fishing, boating, wood working, reading and most especially, time with his family and friends.
He is survived by his wife, Lorraine; his two sons, Ron (Vicki) Lightbody of Olalla and Rob (Erica) Lightbody of Puyallup; six grandchildren, Alora, Ryan, April, Russell, Breanna and Sean; three great-grandchildren, Cooper, Wyatt and Myles; two brothers, Dick Lightbody of Shelton and Jim Taylor of Kennewick; and one sister, Betty Manning of Shelton.
A memorial service will be held Saturday, April 7, 2014, at 11 a.m. at Mills and Mills Funeral Home. Graveside services with military honors will be held Tuesday, April 8, 2014, at 12:30 p.m. at Tahoma National Cemetery.
In lieu of flowers, please consider making a donation to the Wounded Warrior Project in Bob's Name.
For those who have fought for it,
Freedom has a taste the protected will never know.
Mills and Mills Funeral Home in Tumwater is in charge of arrangements.
More like this story