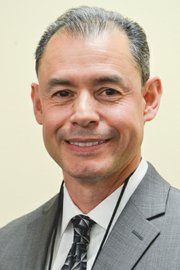 Sunnyside didn't have to look far to find its next police chief, as retired state trooper Al Escalera was offered the post yesterday afternoon.
Escalera and wife Keri call the Tri-Cities home, and much of his service with the State Patrol was in Yakima County and here in Sunnyside.
Sunnyside City Manager Don Day selected Escalera from a field of five finalists.
"Quite frankly, all the candidates were very qualified, but Al is familiar with the area and he brings the leadership qualities I was looking for," Day said Thursday night. "He has an impeccable record and I feel he's the best fit for the community."
Day said Escalera's job offer is contingent on passing a background check.
The police chief position will have a starting salary of $95,880.
During an open house this past Tuesday night featuring the five finalists, Escalera praised a recent town hall meeting held by Sunnyside police. He encouraged the city to go a step further.
"Town hall meetings are nice, but they're not my favorite thing to do," he said. "Neighborhood meetings are more important to me. The number one thing is to build a public trust. The police department is only as effective as the residents."
Escalera's experience includes 26 years with the State Patrol, where he also served as a task force commander. He also has served with the Pasco Police Department and currently is a captain with the West Richland Police Department.
This is his first post as police chief. Escalera is expected to start work here on May 1, according to a press release issued by the city of Sunnyside.
In Escalera's first interview after his hire as Sunnyside's new chief, he told the Daily Sun News this morning his priorities will be two-fold.
"The priorities are to provide stabilization to the police department, assess what works and doesn't work," he said. "And stabilizing the budget, we need to make sure we are being effective and establishing the department's readiness."
Once he starts work here, Escalera also plans to get out in the Sunnyside community and meet the public.
"I want to get out there and cultivate some alliances," he said.
Escalera says he hasn't yet had a chance to visit with staff at the police department. He anticipates it taking time for he and the staff to get acquainted, and says he looks forward to "breaking the ice."
Though he says there is room for improvement within the Sunnyside Police Department, Escalera believes the future is bright for the city and its police.
"There's great potential here," he said Tuesday night. "I'd like to be part of it."