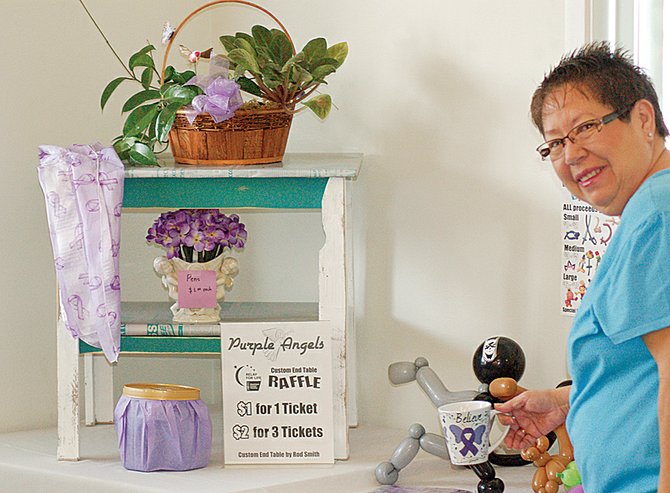 The loss of a long time co-worker and valued friend is hard on any business office, but to lose two such individuals within eight months of each other has been extremely tough on the staff at Sunnyside's Daily Sun News.
Last year in March, a familiar face in the paper's circulation department, Darlene Merry, passed away from lung cancer. In November, the newspaper's longtime office manager and bookkeeper, Nora Hernandez, succumbed to cervical cancer. The loss of both women left an empty place in the hearts of their coworkers.
"We've had many former employees pass away, but to have two staff members die within eight months of each was really difficult to absorb," said Daily Sun News Publisher Tim Graff.
This spring on the anniversary of Merry's passing, the DSN staff decided to form an American Cancer Society Relay for Life team to honor both Merry and Hernandez's memories.
"They both loved purple and Darlene loved angels," said Debbie Guerrero of the circulation department.
Guerrero suggested the team be named "Purple Angels," which was selected from among eight suggested names, voted upon by the 23 staff employees.

"It (the team name) fits them both," Guerrero said.
The team was formed just a couple of weeks ago and the employees have already rallied their talents and skills to raise funds for the American Cancer Society. So far, 20 members of the staff have agreed to walk at the May 17-18 noon to noon Relay for Life event, according to team co-captain Job Wise of the production department. He said the entire staff, including the more than 19 paper carriers, are showing their support for the team.
Wise said among the team fundraisers is a raffle for a handcrafted end table created by staff member Rod Smith from recycled materials, including used aluminum newspaper press plates.

Wise said the table raffle drawing will be held Saturday, May 17, at the relay event.
Also offered for sale are balloon animals created by Wise. A table of purple and lavender cups, scarves and jewelry, as well as baked goods and potted plants are also for sale at the DSN office, 600 South Sixth Street.
In addition, the staff is planning a company sidewalk sale Saturday, May 3, during Sunnyside's Cinco de Mayo celebration, Wise added.
Currently there are 25 teams from throughout the Lower Yakima Valley signed up to participate in the 2014 American Cancer Society Relay for Life, which will be held in Sunnyside at Sierra Vista Middle School, 916 North 16th Street, according to Troy Berglund, the event chairman.
"We currently have more than 290 participants signed to teams. As of Thursday morning, all of the teams have collected $16,323 towards this year's goal of $85,000," Berglund said.
A team captain meeting will be held Tuesday, April 15, at Sierra Vista Middle School at 6 p.m.
Anyone wishing to join a team or to contribute to a team may visit www.relayforlife.org/grandviewwa.