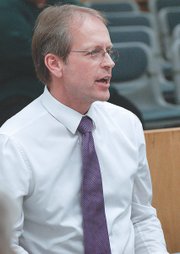 Marijuana was the topic at the Monday night meeting of the Sunnyside subcommittee on public safety. Following testimony by local religious and organizational leaders, the committee voted to approve a formal recommendation that Sunnyside ban the retail sale of marijuana within city limits.
Chair Jason Raines invited the ministerial association, the local bishop of the Church of Jesus Christ of Latter-day Saints and Sunnyside United to give their official positions on allowing the retail sales of marijuana in Sunnyside.
Also attending the meeting was Mary Van de Graaf, who has applied for a marijuana retail license through the Washington State Liquor Control Board.
The Sunnyside Ministerial Association was represented by Pastor Cameron Garcia. The association is asking the Sunnyside City Council to ban the retail sale of marijuana within city limits due to a number of factors, including what the ministers describe as marijuana being detrimental to the health of youth, affecting brain development and IQ.
The association also cited studies that indicate marijuana has an addiction rate of one-in-six among youth. The association also emphasized that the legalization of marijuana has led youth to believe it is safe, when it is definitely not.
"Sunnyside is a very young community, nearly 40 percent of our population is 18 or younger," said Garcia. "We are concerned about the message it sends to our youth by allowing a retail store."
Speaking next was LaDon Linde, the local bishop of the Church of Jesus Christ of Latter-day Saints. He stated he agreed with the statements of the ministerial association. He also asked what the city gets for legalizing marijuana and cited the overall addiction rate of 10 percent and how marijuana tends to be a gateway drug.
Linde also noted that his church has a prohibition on tobacco and alcohol, and said the rule was made to protect the weakest of the population.
"Can some people have a drink or smoke once and never have a problem?" he said. "Of course. But how do we know ahead of time who they are? We need to protect the people who will become addicted. That's why we put these rules in place."
Linde said that people cannot deny the damage that the erosion of morals has caused to society. He said that a lack of respect for chastity has led to social problems. Failing to stand against drugs, he said, will do damage.
"We have the responsibility as the adults in the room, in society," he said. "We need to protect the adults as well as the children. Unfortunately, wisdom does not always come with age.
"I would support a ban on the retail sale of marijuana," he said. "The attorney general has given us that opportunity, we should take it."
The last invited speaker was Marissa Howat, representing Sunnyside United. She presented facts that show Sunnyside youth are using marijuana in increasing numbers, and said that a retail outlet is not in the best interest of the youth of the city.
The only voice in favor of allowing retail outlets was Van de Graaf, who noted the rules and regulations in place for a retail outlet and said she wanted to be proactive to keep marijuana out of the hands of children.
Van de Graaf said she wants to work with police and make sure that, if the city does go forward and allow a retail outlet, that no marketing will be done to children. She said that she is looking at the drug more from a medicinal standpoint.
"I don't know how you are going to stop it from being on the street," she said. "I thought bringing it into a store might help control it better."
Raines also asked city staff members to contribute to the discussion. City Manager Don Day said his 30-year history in law enforcement has convinced him that marijuana is not harmless. He first cited the fact that smoking anything is bad for human lungs. He also noted that businesses lied about the effects of tobacco for years.
"I believe that big business will get into this if there's any money in it," he said.
He also agreed with Linde, saying that some people can take drugs and not be affected, but it's the ones that go back, again and again, that have a negative impact on society. He also mentioned Sunnyside's recent history of gang violence and drug problems.
"You are never going to convince me this is a good idea," he said.
From a law enforcement standpoint, Day also said it is currently very difficult and expensive to test for marijuana, costing between $300 and $400 for a blood test and requiring extra officer time.
"Legalization in Sunnyside will have a lot more adverse effects than any benefits," he said.
Fire Chief Aaron Markham said it would not affect the fire department much. He said if people are able to get it elsewhere locally, they will bring it into town. As first responders, Markham said the firefighters don't look for drug use.
"Head injuries mimic the effects of many drugs," said Markham.
Markham said he believes that marijuana may have medical value, but that's up to doctors and scientists to determine.
After all discussion was finished, subcommittee members Raines, Dean Broersma and Craig Hicks voted unanimously to recommend that the city of Sunnyside ban marijuana growing, processing and retailing within city limits.