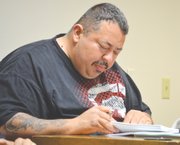 MABTON – During its business meeting last night, Tuesday, the Mabton City Council took action on several items related to the city's water and sewer utilities.
Mabton is in the process of upgrading both water and sewer facilities.
The action items involved signing an incentive letter with Pacific Power for improvements at the wastewater treatment plant.
Under the incentive program, Pacific Power will pay Mabton $19,498 in cash incentives once the city shows energy savings upon the project's completion in May 2015.
Mabton's council also last night formally signed off on a $1.8 million loan/grant package with the Department of Commerce for a project to improve and increase the city's water supply. Of that total, about $1.3 million is in the form of a 2 percent loan payable over 20 years.
In a meeting just two weeks ago, the Mabton City Council approved the first of two $3 increases in monthly water utility rates to pay for the loan.
Mabton also has $30,000 in grant funds to conduct research on the city's water needs. Last night, council approved contracts for grant-funded engineering services to examine the possibility of rehabbing one of the city's wells that is out of use due to high nitrate levels.
During public comment at a study session prior to last night's business meeting, council heard from citizens who were supportive of the city's efforts to improve water and sewer utilities, but also called for improved communication prior to city crews flushing the water system.
Mayor Mario Martinez said one recent flush of the city's system was needed because of work to clean out a water storage tank. He said divers working in the tank have removed 18 inches of sediment so far.