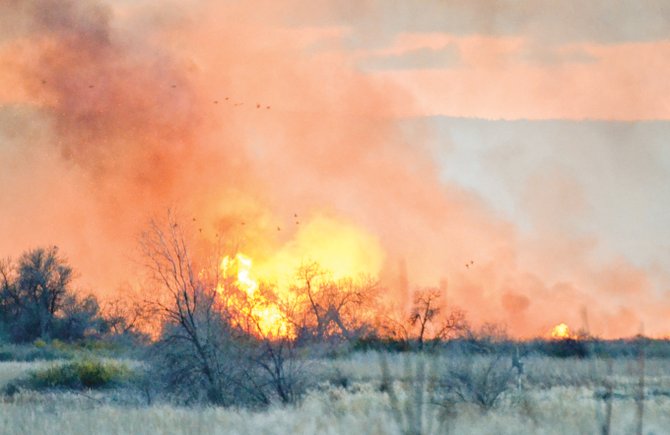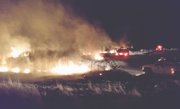 MABTON – What began as a controlled burn turned into a raging wildfire last night.
The blaze scorched about 200 acres of land before it was contained at about midnight, according to Yakima County Fire District 5 officials.
The fire was visible from Sunnyside, Grandview and Mabton.
"We were seeing flames spout up and explosions," said Kathy Viereck, who lives about a mile from where the fire occurred. "It was spectacular. We were worried about how close it was."
The controlled burn was started in the 19000 block of Highway 22 near Florence Road. At about 6 p.m. last night, winds spread the fire north and east, and it jumped the Yakima River into Washington Fish and Game property.
Firefighters were hampered by rough terrain and marsh areas of the game preserve. Burnout operations were conducted by firefighters to reduce the fire's fuel load and slow it down. A bulldozer line was also put in place to control the burnout.
Officials said three or four homes were threatened during the incident, but were not damaged. About $140,000 worth of fish and wildlife habitat sustained damage during the fire.
Multiple Yakima Valley fire departments assisted. About 50 firefighters were on scene. There were no reported injuries.
The scene has been turned over to the Fish and Wildlife personnel and will be monitored. Officials report the fire was still burning in some areas near the river's edge, well inside the containment lines. Firefighters also expect that trees may torch out and pockets of unburned fuel may ignite.