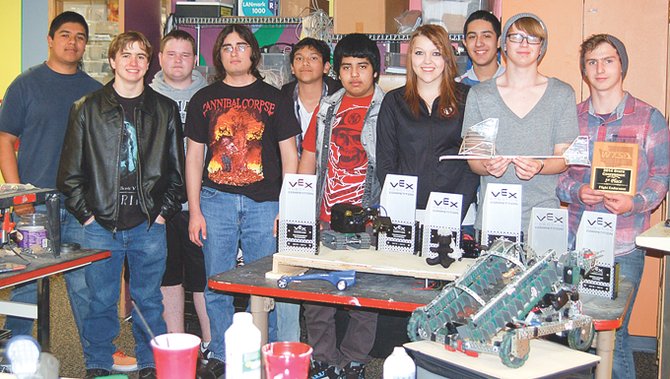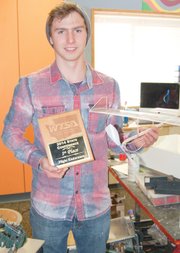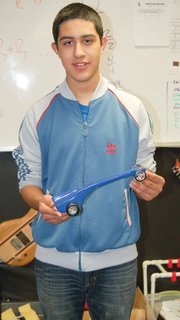 BELLEVUE – Sunnyside High School's Cody Pillatos-Stiltner knows how to keep a wooden plane in the air, and he can now claim to be the best in the state at his craft.
Pillatos-Stiltner took first place honors for flight endurance at the State Technology Student Association Conference held in Bellevue this past weekend, and fellow Grizzly Tarrin Daniel placed fourth. Both of them earned spots at the national competition to be held in Washington D.C. in July.
Members of the Sunnyside team competed in nine events at the conference, coming very close to also earning national spots in animatronics and dragster design.
This isn't the first national trip earned by Pillatos-Stiltner, who took second place honors at the state conference in the same category last year. He said he has some plans to make his plane work even better. He also hopes that he won't run up against the limitations of the venue, like he did at the state competition.
"Nationals will be held in a ballroom with a higher ceiling," said Pillatos-Stiltner. "My plane hit the ceiling at state. If it hadn't hit the girders, it would have gone even further."
For his part, Daniel suffered from issues with his parts. Borrowing landing gear from Pillatos-Stiltner earned him a deduction.
"I would have had third place if not for that," said Daniel.
He also suffered from a broken wing only five minutes before his flight time. Some superglue fixed it, enough for the flight.
"He has a lot to work on," said Pillatos-Stiltner.
Both of them are thrilled to be headed to nationals.
The Grizzly team put together a sixth place performance in animatronics, designing and building a device aimed at communicating an idea. Only the top five teams earned the trip to the national conference.
In dragster design, students build CO2-powered dragsters. Sunnyside students Charis Riojas and Kevin Alonso earned eighth and ninth place honors, respectively.
Alonso would have placed much higher in the competition if he had recorded and documented his design in a journal. He said he has learned from the experience. As a freshman, he will have more chances to compete in the future.
The Sunnyside team also competed in extemporaneous speech, on-demand video, structural engineering, tech problem solving, VEX robotics and tech bowl.
"They all had a blast competing," said Sunnyside TSA advisor Spencer Martin.