Over the Shoulder
A look back in time from the files of the Sunnyside Daily Sun News and Sunnyside Sun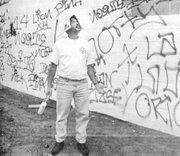 110 YEARS AGO...(1904)
A fancy dress party hosted by Mr. and Mrs. H.A. Webber was given at the home of Mr. and Mrs. E.E. Ferson, east of Sunnyside. The costumes included Martha Washington, a ghost, Red Riding Hood and the Queen of Hearts.
100 YEARS AGO...(1914)
Dr. Howard Russell, founder of the Anti-Saloon League, spoke at the First Brethren Church in Sunnyside about the certainty that a constitutional amendment banning alcohol would happen soon.
Everett Butler of Prosser was nearly killed and his automobile destroyed when he crossed the Northern Pacific line in Grandview and was hit by an outbound passenger train. Butler suffered severe bruises and a dislocated nose. A lamb he had with him in the car was uninjured.
90 YEARS AGO...(1924)
Ten seniors at Sunnyside High School were lauded for keeping high marks throughout their high school years. They were Sara Woodyard, Ella Matheson, Helen Welch, Dorothy Fordyce, Sylvia Anderson, Thelma Schlosser, Pauline Eckles, Clara Glancy, William Shanafelt and Sarah Harrington.
The Younglove Canning Company prepared for a busy period. They expected to use 600 tons of tomatoes and employ about 100 people until September.
80 YEARS AGO...(1934)
Thieves escaped with $500 worth of wool from Pete Reynaud's ranch north of Sunnyside. Reynaud offered a $50 reward for the recovery of the wool and capture of the thieves.
The Sunnyside High School general business training classes visited the telephone office and learned how the switchboard and telephony in general worked.
70 YEARS AGO...(1944)
Chairman of the merchants committee Tom McKay spoke at a Chamber of Commerce meeting about the lack of parking spaces in Sunnyside, particularly on Saturday nights.
The directors of the five districts that had been reorganized into the Sunnyside School District met to elect a new school board from their numbers. Members selected for the duty were Walter Fry, R.F. Turner, Floyd Kostenbader, Lonnie Halsey and Gussie Fleming.
60 YEARS AGO...(1954)
Noble Johnson retired from the city after 11 years of duty in the sanitary department of Sunnyside. Fellow city employee Hallie Webber said that for a few years he and Johnson had been the entire city maintenance department.
A chicken hatched to Mrs. B.E. Wright of Sunnyside was born with no eyes. Wright hoped to keep the chick, a New Hampshire Red, alive.
50 YEARS AGO...(1964)
Dale Howard was sworn in as a Sunnyside Councilman for the first time along with reelected incumbents Lloyd Smith, Mike Burke and Dan Hamblet.
Rev. Lawrence C. Beal, pastor of the First Baptist Church in Sunnyside, preached his last sermon in town before moving to a job with the YMCA in Fresno, Calif.
40 YEARS AGO...(1974)
Construction was set to begin on classroom facilities for Yakima Valley College on the Anderson property north of Sunnyside. The $72,000 facility was planned to include a shop, classroom and offices for instructors.
30 YEARS AGO...(1984)
Potted Christmas trees auctioned off during the annual Festival of Trees in Sunnyside were replanted at South Hill Park.
A remodel of Washington Elementary School in Sunnyside began. The $2.8 million project was intended to modernize the school.
A Sunnyside High School baseball game that was to be held in Ellensburg was canceled on account of snow.
20 YEARS AGO...(1994)
The Sunnyside Police Department purchased two bicycles at just more than $600 each to facilitate warm weather patrols.
The Sunnyside Library got a computer terminal for patron use. The machine was equipped with test preparation software, a resume creation program and language learning applications. It did not have an internet connection.
10 YEARS AGO...(2004)
The Sunnyside Community Center opened its doors for the first time with youth programs over spring break. The Washington State Migrant Council planned to operate the center for five years.
Sunnyside Beauty Academy accepted its first class with eight students at its location in the Port district's industrial park.
A two-run homer by sophomore Courtney Rice helped the Sunnyside Christian Lady Knights get to 6-0 in league standings in fastpitch.