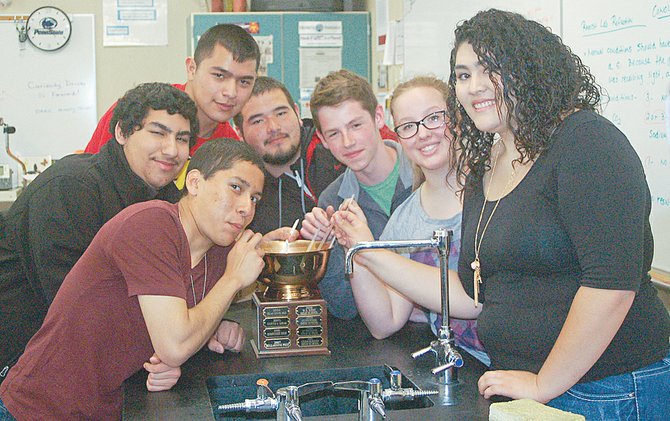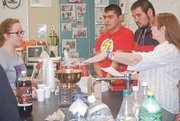 It's a longstanding tradition for Sunnyside High School's state science fair winners bringing home the coveted traveling trophy to celebrate with giant root beer floats. Nobody says the creamy confection can't be enjoyed directly from the trophy itself.
Yesterday, Wednesday, the local winners gathered in SHS science fair guru Joyce Stark's classroom to enjoy the fruits of their experimental labors with straws and spoons dipped into the ice cream and root beer drink.
Claiming the honor of trophy float drinkers were Juan Casas, Payton Sample, Gardenia Contreras, David Jimenez, Isacc Perez, Xavier Hernandez and Cole Gardner.
"It tastes pretty good," said Sample, who brought home first place honors and a Water Environment Federation U.S. Regional Stockholm Junior Water Prize.
Sample and her fellow young scientists attended the Washington State Science and Engineering Fair held in Bremerton April 4 and 5.
Coming closest to earning an all-expense paid a trip to the international science fair was Juan Casas, who also earned first-place honors and an $80,000 scholarship to Wesleyan University in Ohio. He also was awarded the Wolfram Research, Inc. – Mathematica software.
Stark said Casas was one of the final six candidates to be considered for the international trip, but being a junior, he has a shot at it next year.
Also bellying up to the bowl of root beer float was Perez, who claimed a second-place honor and a Water Environment Federation U.S. Regional Stockholm Junior Water Prize. With him was Gardner, who brought home state third-place honors and a Do Real Things - Innovation Award. Also earning the ASM Material Education Award and second-place honors was Jimenez, along with Hernandez, who brought home third-place honors.
The lone senior on the SHS team was Contreras, who claimed a state second place award for her science project.
Unable to be present for the trophy float party was Angelica Hernandez and Sunnyside Christian High School first place science fair winner Zack Halma. Halma also was awarded a Bonneville Power Administration energy and environment awards and a tour of the BPA complex facility.
Sunnyside High School state science fair participants earning second-place ribbons includes Hazeal Negrete, Jacob Robles, Yesenia Garcia, Bernaldino Rangel, Fox Rodriguez, Makayla Schilperoort, Shams Nassar, Rebecca Chavez, Celeste Garcia, Maria Alvarez, Angelica Mercado, Alexis Osuna and Sierra Vista middle school student Karen Villanueva. Third-place honors went to Ester Estrada, Alexis Gardenas, Jasmine Paxton, Xavier Hernandez, Edgar Perez, Andre Cavasos, Janet Vargas, Adrian Campos, Brittany McCardle, Kenneth Gutierrez, Lucia Magana, Karla Villanueva and Apolinar Orea. Honorable mentions were given to Heidi Lancaster, Eloy Montiel, Salvador Delgadillo, Mariana Gonzalez, Guadalupe Martinez and Alvaro Inguez.
Sipping their share of the float, the top state award winners congratulated themselves for bringing the state trophy home in back-to-back competitions. Stark said the traveling trophy will be on display at the high school until next year's contest.
"We've brought it home five of the past 10 years," she said.