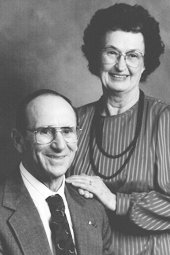 Wayne Ellsworth Ferson, 90, of Sunnyside passed away on Friday, April 4, 2014, in Sunnyside.
Wayne was born July 8, 1923 at the family home in Sunnyside to Chester E. Ferson and Mary E. Williams.
On March 20, 1942 he married the love of his life, Miss Ruth Lee Noble in Prosser. In January of 1944, he joined the U.S. Navy as a shipfitter in the Pacific fleet during WWII and served his country honorably until December of 1945.
After serving his country, Wayne returned to Sunnyside and became the owner and operator of Ferson Welding and Repair. Later he worked at Grandview Grange Supply as a mechanic and eventually retired from the Libby's Plant as the chief refrigeration engineer.
Wayne loved farming his cherry and apple orchards, flying, woodworking, metalworking and any type of construction, especially working on cars.
He was a member of the American Legion, Grandview Masonic Lodge and the Yakima Scottish Rite.
Wayne is survived by his loving wife, Ruth of Sunnyside; two sons, Lawrence (Betty) Ferson of Grandview and Jerry (Linda) Ferson of Sunnyside; his grandchildren, Jerry Ferson Jr. of Thurmont, Md., Lynn Ferson of Orlando, Fla., Lee Ann Ferson of Wasilla, Alaska, Lieutenant Colonel Victor Ferson of Manassas, Va. and Vicki Nadeau of Phoenix, Ariz.; 15 great-grandchildren and five great-great- grandchildren.
He is preceded in death by his mother and father; four sisters, a brother and three grandchildren.
A memorial service of inurnment will be held Friday, April 18, 2014, at 11 a.m. at Lower Valley Memorial Gardens, followed by a Celebration of Life Service at 1 p.m. at Smith Funeral Home Chapel in Sunnyside.
In lieu of flowers, please make donations to the Shriners Hospitals for Children.
Those wishing to sign Wayne's online memorial book may do so at www.funeralhomesmith.com.
Smith Funeral Home Ltd. and Crematory in Sunnyside is in charge of arrangements.
More like this story