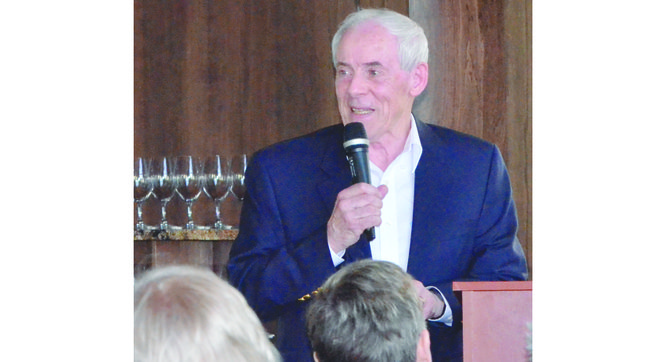 PROSSER – The economy has become more global and the U.S. doesn't have sway over other countries it once had.
That's the bad news delivered by Dr. Desmond O'Rourke, CEO of Belrose, Inc.
Recently he was the featured speaker at the Prosser Economic Development Association meeting.
O'Rourke said there is good news, however.
Although advances in technology have helped the economy become more global and larger companies have been given a greater advantage, smaller companies and forward thinking individuals can succeed. That's because "…location no longer needs to be a disadvantage."
O'Rourke said rural communities can host server farms and distribution centers. Individuals can develop software applications to be used by others worldwide.
"In all the turmoil, the U.S. has come out on top," he said, noting companies like Amazon, Zillow, Costco and Starbucks are all thriving.
Those companies, based in Washington state, have looked at the global market in a positive manner. They did not limit their market to those living locally, according to O'Rourke.
He said Washington state is in a prime position agriculturally, too. He said the state is a leader in wine, hops, hay, barley, peas and lentil production. Those commodities are ideal for "premium markets."
O'Rourke said retail markets, as well as many other industries are changing. Companies like Amazon are getting into the marketplace, delivering groceries. Amazon's advantage in urban areas is that its products are rated, giving the consumer the opportunity to control the sales and purchase of products.
These changes, said O'Rourke, are "squeezing" mid-level retailers like Albertson's and Safeway, which recently merged.
"Our money is also being used more for services than manufacturing," said the expert who studies the economy.
He said manufacturers are moving offshore as Americans spend money on services like manicures. Less developed countries are providing the manufacturing jobs.
"China is also moving away from manufacturing," said O'Rourke.
As developing countries grow their economies, he said there has been a shift in economic power. "Countries like Mexico won't be as easily swayed by the U.S.," he said.
The U.S. is becoming more energy independent, which also impacts other countries. As the U.S. purchases less oil, it also must be creative about its relationships with countries that import American products, he said.
Agriculture is changing as well, according to O'Rourke. He said larger agricultural companies are working to become preferred suppliers to larger retailers, keeping costs down and absorbing regulatory costs.
All these industries are interdependent, adjusting to changes in the economy. O'Rourke said changes in smaller markets can also be made to meet the demands of a global economy. He said it is important to assess one's assets, identify trends and match them.