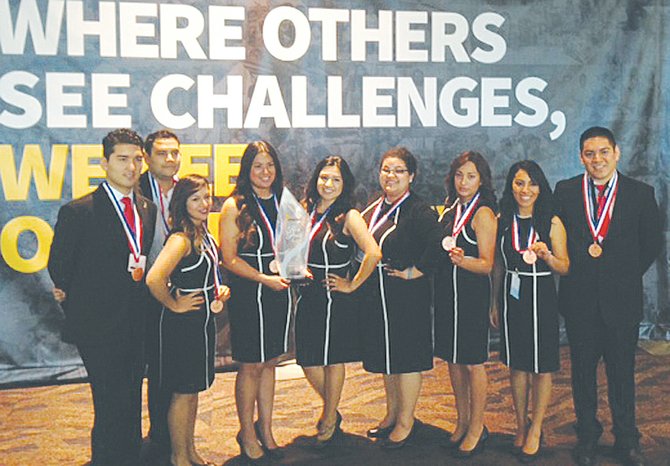 TOPPENISH – Students from Heritage University proved their mettle against 225 other college and university teams, earning third-place honors in a national competition two weeks ago in Cincinnati, Ohio.
The National Enactus Competition asks local Enactus chapters to make a presentation on what the chapter has done to promote business learning over the past year.
Heritage University Enactus had a lot of different projects to pick from.
"We did 31 projects through the course of the year, but we focused on three of them," said team advisor, Leonard Black.
The Heritage team first discussed a project in which Enactus students worked with local people in entrepreneurship training programs, helping them to create business plans and get loans.
The second project involved travel to Belize to continue helping a group of women who have formed a furniture-making business. The chapter has assisted the women in past years, and returned again this year to help the business expand.
The third project was an innovative summer camp in which Enactus students worked with 35 at-risk children to teach them the basics of entrepreneurship and get them involved in STEM activities.
"The goal of that project is to teach these children that they have talent and marketable skills," said Black.
As a result of the project, the at-risk kids kept their profits, about $50 each, and also began to take an interest in school.
The team presented the projects to a group of 70 judges from Fortune 500 companies, making it through four rounds of competition to finish on the big stage in front of all competitors.
"You have to be here to understand the stress and the pressure," said Black. "All these schools, and they all have good projects. We placed ahead of last year's champions and competed against big schools like Syracuse and Oregon State."
Enactus is an international non-profit organization that brings together student, academic and business leaders who are committed to using the power of entrepreneurial action to improve the quality of life and standard of living for people in need.
Heritage University Enactus has won 10 consecutive regional championships. Since first reaching the national level in 2004, Heritage's team has been in the top 20 eight consecutive times and has advanced to the "final four" four times.
"We couldn't be more proud of our students. Placing in the top three for the fourth time since 2004 is proof that we continue to have a tremendously talented group of students who develop outstanding projects," said Heritage University President, Dr. John Bassett.
The Heritage team was judged the third-best in the nation this year, but its journey didn't end at the competition. The final project so impressed the National Migrant Educators Association that the team was asked to travel to San Antonio, Texas, and make a presentation about the summer camp program during the organization's conference.
"We put together a packet on how to replicate it," said Black. "When we finished, our students got a standing ovation."