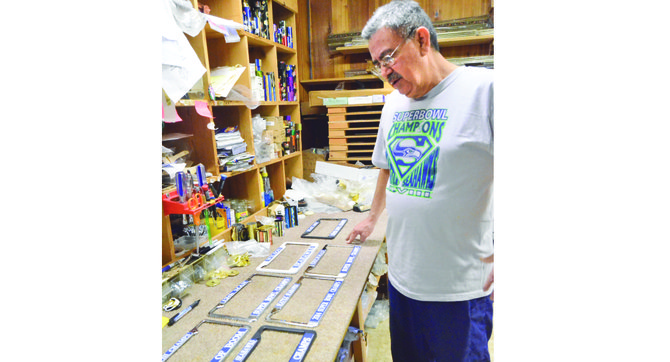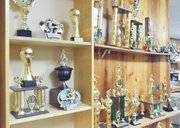 GRANGER – Rudy Guzman is the owner of Classic Trophies in Granger.
For approximately two decades he has been called upon to create medals and awards, commemorating the accomplishments of Lower Yakima Valley residents and athletes.
Late into the 2013-14 NFL season, as the Seahawks were entrenched in the NFC playoffs, he began creating custom license plate frames.
"I have been creating license plate frames for people for a while, but the Seahawk license plate frames have become my most popular," Guzman said.
He said many residents want to celebrate the Seahawks and show their support for the football team, this year's Super Bowl champions.
Making trophies has always been an enjoyable task because, Guzman said, they are a way to celebrate the accomplishments of those living in the Yakima Valley.
The license plate frames, however, are unique because they provide individuals a new way to express themselves. Whether the customer is a Seahawk fan, a Redskin fan or a Grizzly fan, he can design a license plate frame unique to the person ordering it.
"Some people give them as gifts," said Guzman.
He said he typically has a couple license plate frames with him when he is out and about the community. "People have purchased them just about everywhere I go," he said.
Making trophies and license plate frames, said Guzman, is a way to feed his creative side.
"People like custom-made trophies that are unique," he said.
In the same way, many of the license plate frames can be unique.
The Seahawk frames, for instance, come in different colors with different catch phrases like the "Legion of Boom," "Super Bowl Champs" and Russell Wilson's name on them.
Businesses can also use the license plate frames as an advertisement, said Guzman.
"It's really a matter of individual needs and desires," he said.
To contact Guzman for an individualized license plate frame, call him at 830-5228.