Over the Shoulder
A look back in time from the files of the Sunnyside Daily Sun News and Sunnyside Sun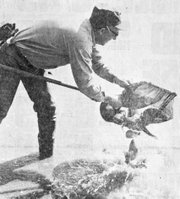 110 YEARS AGO…(1904)
The ladies Federated Aid of Sunnyside held a meeting in which several papers were presented by Mrs. Higgins, Mrs. Spalding, Mrs. Noble, Mrs. Argent, Mrs. S.T. Woodin and Mrs. Cline on such topics as "Gardening," "Flowers" and "How to survive a dust storm."
Chris Van Bell returned to Sunnyside from Holland after just over two months away, bringing with him Mr. and Mrs. P. Den Hartigh and their daughter J. Den Hartigh, the parents and sister of Mrs. Chris Van Bell.
100 YEARS AGO…(1914)
A special meeting of the Grandview District Fruit Growers Association was called to discuss the business of the year.
The Woman's Club of Sunnyside elected officers for the next year, including Mrs. S.J. Harrison as president, Mrs. Hoffman as recording secretary, Miss Woodin as treasurer and Mrs. Murfin as auditor.
90 YEARS AGO…(1924)
The First National Bank of Sunnyside, which had closed its doors after a false rumor caused a run on the bank, was set to reopen after a reorganization. W.L. Steinweg, president of the First National Bank of Yakima, was in charge of the plans.
Charles Hunsaker dropped a match down the old Flower well in Mabton and was burnt by a gas explosion that lifted off his hat. People immediately began speculating on natural gas and wondering if Mabton could supply Sunnyside, Grandview and Prosser.
80 YEARS AGO…(1934)
In the first baseball league game of the year, Sunnyside defeated Grandview by a score of 6-2.
Six Sunnyside chess enthusiasts, Arthur Murfin, Earl McKibben, Warren Eckles, Norman Francis and Wayne Robbins, were guests of W.S. Jenkins in Prosser for part of a round-robin series of games.
70 YEARS AGO…(1944)
The first of 100 government housing units in Sunnyside was due to be occupied, according to E.N. Funk, executive secretary of the local housing authority. The family of Lyla A. McAdoo, an electrician from Hanford, planned to move into the first unit.
Workers to help with the asparagus harvest were desperately needed in Sunnyside, according to Clark Mace, local employment officer. Pay was about 75 cents an hour.
60 YEARS AGO…(1954)
Sen. Henry M. Jackson and Sen. Warren G. Magnusson informed Sunnyside Schools Superintendent K. P. Mallery that the district would get $20,752 from the federal government for maintenance and operations.
Wilma Vice was named valedictorian of Sunnyside High School and Alice Mae Brook was named salutatorian.
The population of Sunnyside officially went over the 5,000 mark. The annual census to determine how much money the city received from the state determined Sunnyside had 5,084 residents.
50 YEARS AGO…(1964)
St. Joseph Catholic School was dedicated with a blessing by Bishop Joseph P. Dougherty. Washington Gov. Albert Rosellini spoke at the ceremony as well.
The opening race of the motorcycle season at Sunny-Grand Speedway was held. Drivers from across the Northwest participated in the Inland Empire Sportsman Racing Association's sanctioned race.
40 YEARS AGO…(1974)
Voters approved a bond issue to build a new school in Sunnyside. The new school was needed to replace Chief Kamiakin Elementary, which burned down earlier in the year. The new 900-student building would be located next to the Sunnyside junior high school.
Micki Grady, Sharon Barker, Dorothy Newhouse, Kevin Williams, Bruce Beaulaurier, Mark Linquist, Greg Kirk and George Esqueda were chosen to represent Sunnyside High School at the 1974 Boys and Girls State.
30 YEARS AGO…(1984)
Fred Helm won Sunnyside's first ever racquetball tournament. Dale Verhoeven took second-place honors and Mike Shea came in third.
Lina Crain was honored for her volunteer service to Valley Memorial Hospital in Sunnyside. She received a "Distinguished Volunteer" award from the governor for logging more than 7,500 hours of service at the hospital over a period of more than 20 years.
20 YEARS AGO…(1994)
Mabton High School agriculture teacher Kevin Chase was named "Ag Teacher of the Year" for District IV.
Karen Veiga of Grandview was crowned Yakima County Dairy Ambassador and her family earned the dairy family of the year award.
10 YEARS AGO…(2004)
Nicole Linde of Outlook was crowned the Yakima County Dairy Princess. Daughter of LaDon and Sandra Linde, she replaced reigning Princess Kendra Golob of Granger.
Larry Hill was named the city's first citizen patrol officer by Police Chief Ed Radder and Interim City Manager Mark Kunkler. Hill was assigned to monitor the enforcement of handicap parking in the downtown area.