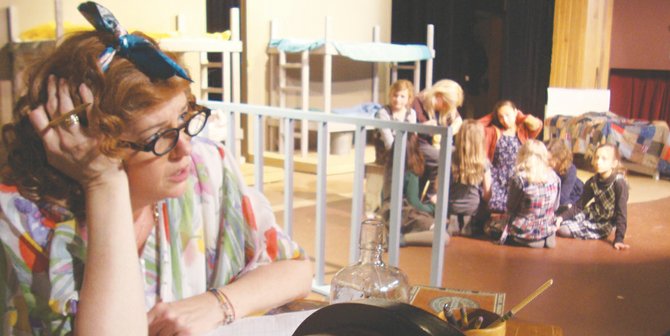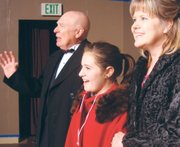 PROSSER - The sun'll come out on the stage at Prosser's Princess Theatre, 1228 Meade Ave., as Valley Theater Company presents the well-loved musical "Annie" for four performances.
Performance dates are April 25-26 and May 2-3, with curtain at 7:30 p.m. Tickets are available at Sixth Street Art & Gift Gallery in Prosser, Adventures Underground in Richland, Patnode's Hardware in Benton City, Safeway in Grandview and Mélange in Sunnyside. Cost is $15 for adults and $12 for seniors and students.
"Annie" is the story of a plucky young orphan who tries to find her parents, who abandoned her years earlier on the doorstep of a New York City orphanage run by cranky and cruel Miss Hannigan. With the help of the other girls in the orphanage, Annie escapes to the magical world of NYC where she befriends President Franklin Delano Roosevelt. She eventually finds a new home and family with billionaire Oliver "Daddy" Warbucks, his personal secretary Grace Farrell and a lovable dog named Sandy.
Alexis Atencio stars as Annie, with Kimberly Starr as Miss Hannigan, Kathlyn Wolfe as Grace, Richard Reuther as Daddy Warbucks, Scott Waywell as Rooster, Naomi Alhadeff as Lily and Terry Langley as President Franklin Roosevelt. Alia, owned by Becky Cantu, plays the dog Sandy.
The other orphans are Emily Johnson, Emmerson Holt, Sara Waywell, Elizabeth Humberstad, Amiya Fulton, Claudia Fesko Santos, Rachel Hudak and Rebekah Bestebreur.
Other cast members who portray Warbucks' mansion staff, Roosevelt's cabinet and citizens of New York City are Joseph Charvet, Amy Householder, Sherry Hatch, Azalia Alvarez, Alex Roth, Michael Kantman, Emily Shuttleworth, Charlene Dunnington, Fred Bray, Ann Glover, Devin Menard, Kayla Rodriguez, Susan Webber and Ashley Wolfe.
Paul Brooks is the director; Suzy Kephardt is the assistant director, Amy Householder is the producer; Marlaine Mars is the choreographer, and Patricia Schlotfelt is the musical director.
A five-piece ensemble will provide accompaniment.
For more information about VTC and the Princess Theatre visit them online at www.ThePrincessTheatre.net.