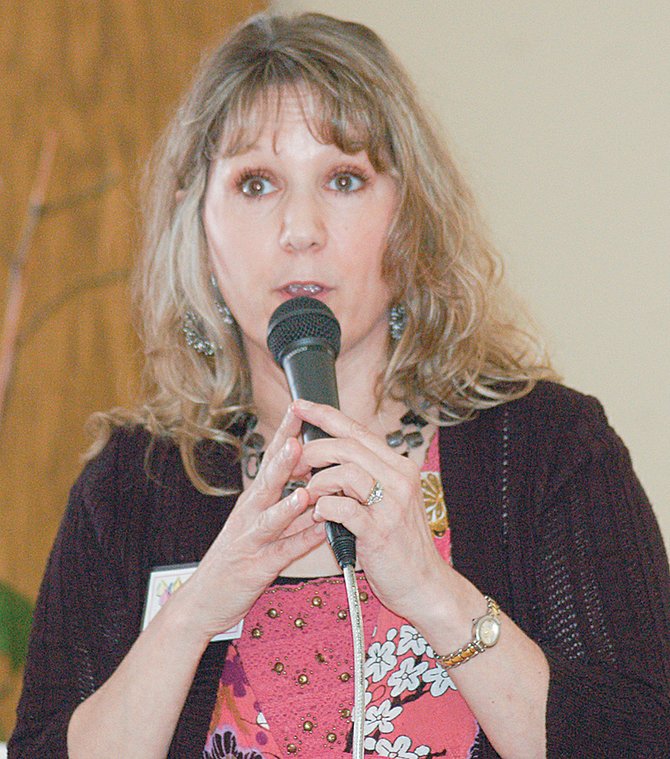 PROSSER – The women attending the monthly meeting of the Lower Valley Christian Women's Connection expecting to hear a war veteran speak about the horrors of war, received instead a testimony about spiritual protection.
Tammy Ortung of Port Orchard, who retired four years ago from the U.S. Air Force after 25 years of service, was the featured speaker Tuesday. The energetic woman served in Iraq, working in an ancillary position in an Army office on the military base.
"I had a lot of fears when I learned I was to be deployed to Iraq in 2009," she told her audience this past Tuesday during a group's luncheon at The Barn Restaurant.
"It wasn't like I was in danger of being hit by the mortar fire. I wasn't in danger, although I was uncomfortable with the heat and dust," she noted.
"But I knew that there had been 260 reported sexual assaults on the military bases in Iraq and the incidents of PTSD were very high," Ortung said.
"My fears were the result of my bad attitude and the fact I didn't trust God," she explained.

It wasn't until she started a daily mantra of "10 reasons why Bagdad ain't so bad" that she began to trust God to take her fears and accept His spiritual protection.

Some of her top 10 reasons included getting up each morning and finding a clean toilet "…and the food was always good."
She said a lot of times walking to the latrine from her quarters across the compound in the middle of the night required not only her service revolver, but faith that she would made it there and back without incident.
Ortung said there were many days that even though she loved God and was a Christian, she couldn't wrap her mind around being worthy of God's love. "I couldn't internalize the depth of God's grace for me," Ortung said.
Now an inspirational singer and a volunteer with the Stonecroft military mission, Ortung realizes that it was at an Easter experience that she finally allowed herself to let go of her fears.
"I had been asked to be a member of the Easter Sunday worship team. It was then I realized it not whether I was worthy of God's love, but through His grace that He loves me and I had been saved," Ortung explained.

Looking back, Ortung now realized her time in Iraq was a valley in her spiritual walk.

"I had a lot of free time to reflect on what the Lord wanted for me. It was a time of spiritual growth for me and I truly began to realize I couldn't get through it without Him with me," she said.

Ortung, who now travels around the country to military bases offering spiritual care to military families, said there is a song that she often sings that has helped her realized the strength of her walk with God.
"The song 'Wrap me in your Arms,' reminds me that He is always with me," she said.
‑ Julia Hart can be contacted
at 509-837-4500, or email
JHart@DailySunNews.com