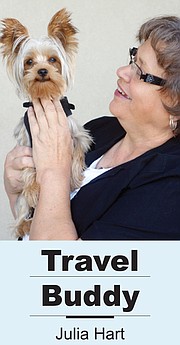 So most of you know that April 11 was National Pet Day, right?
Yeah, me neither.
Buddy, my faithful lapdog, just happened to notice it while I was scrolling through my Facebook newsfeed last week. No, he doesn't read, but he always seems able to interrupt my Facebook time with that wet little nose of his whenever something interesting pops up.
As it happens, last Friday I had just rolled past a notice for a National Pet Day sharing, when Buddy jumped up into my lap. With the help of his jolting of my laptop and cell phone, I learned a lot about this particular observance.
It turns that nationally recognized animal activist Colleen Paige, who has also created several other pet awareness programs, founded Pet Day in 2005. This year, the pet lovers of Portland, Ore. organized a whole day of pet-friendly activities including a pet fashion show and even a free clinic day.
No, National Pet Day is not just a day to give Buddy an extra doggie treat, although he wouldn't object to that offer. It's a day to encourage animal lovers to adopt, rather than shop for their furry friends.
I know from reading the local police logs that every day the police are called to scrape up dead dogs and cats off the city streets, who were unlucky enough to be hit by motor vehicles.
Every day, the local animal control officer is called to pick up stray dogs running loose throughout neighborhoods or to set traps for cats who've been allowed to turn feral.
One might infer from those reports that a lot of people think animals don't really matter.
But they do at my house. Ask Buddy, if you dare.
If he could do more than bark at you, he'd tell you that spaying and neutering your cats and dogs is the responsible thing to do. He might even suggest you donate a $1 a month to one of the many local shelters or rescue programs and to get all of your friends to do the same.
The tiny guy might even suggest setting up an emergency health fund at your favorite 'animal doc' clinic for those pet lovers who can't afford spaying and neutering fees.
I also suggest, however, that you not even get an animal if all you are going to is to abandon it to the streets as soon as the cute wears off.
This suggestion also applies to those parents who want to get their offspring a bunny rabbit, lamb, baby goat or a baby chick for Easter.
Just don't do it. Don't bring home a puppy or a kitten, either. They grow up fast and it takes time to house break them.
So Buddy and I suggest you save yourself some grief.
Buy a stuffed animal.