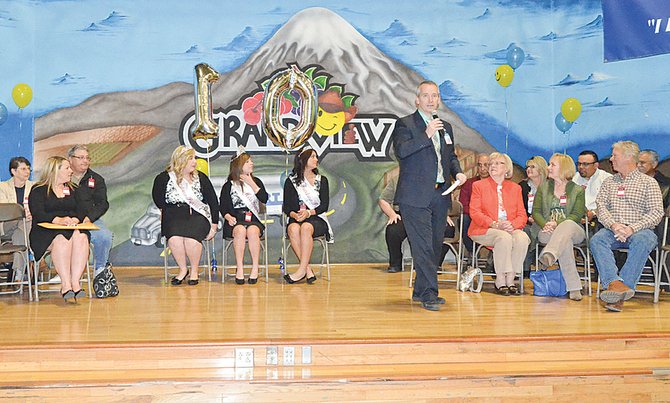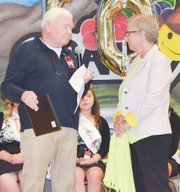 GRANDVIEW – It has been 10 years since the Wal-Mart Distribution Center in Grandview celebrated its grand opening.
This morning (Monday) employees gathered at the beginning of the shift for its daily "All Hands On Deck" meeting, celebrating the center's 10-year anniversary.
Human Resources Manager Aaron Rodriguez energized the crowd, introducing officials with the Port of Grandview, city of Grandview and Grandview City Council who attended the celebration.
He introduced members of the Hansen and Higgins family, who once farmed the property on which the center now sits.
Grandview Mayor Norm Childress addressed the employees, stating the distribution center would not have been possible without the many partnerships developed 10 years ago.
Wal-Mart, he said, has continued to nurture its partnership with the community through its many contributions, including scholarship opportunities, grants, volunteer efforts and job opportunities.
Port of Grandview Commissioner Jim Sewell told the employees about the history of the center, stating the process of ensuring the center could be built in Grandview started 12 years ago.
"There were negotiations, regulations and annexations," he said.
Sewell said it took the effort of many entities from the city to the state to provide the resources and to pave the way for the construction of the distribution center.
"It was a massive undertaking," said Sewell.
That effort was worthwhile, as the distribution center spurred much economic development in the community. There has been new construction and other economic opportunities because Wal-Mart chose to locate its distribution center in Grandview, said Sewell.
"There are now more than 600 employees here…$1.3 billion of economic activity has taken place," he said.
Rodriguez said more than $250,000 in Wal-Mart Foundation grant monies have been provided to organizations in the community and numerous volunteer hours have been able to help Grandview organizations.
Cathlin Schmitke is the general manager at the distribution center. She lauded the employees for their dedication and team effort at the center, stating the team has a safety record to be proud of. She told the employees they have succeeded in exceeding goals and expectations.
She rallied the employees, letting them know the management appreciates the hard work of all employees.
More like this story