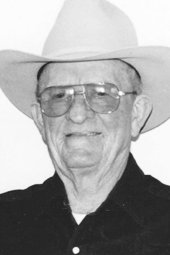 Don Naught, 85, of Bickleton passed away on Tuesday, April 15, 2014, at his home surrounded by his family and loved ones.
He was born Dec. 17, 1928 at his aunt May's home in Mabton to L.D. (Toppy) and Elsie (Roberts) Naught. He was raised in the Bickleton area of Klickitat County. He attended grade school at Donaho School and graduated from Bickleton High School. Don rode horseback to school all 12 years no matter what the weather.
He married his high school sweetheart, Dorothy Kreutzkamp on May 3, 1947 in Olympia.

Don worked for farmers until 1950, when he and Dorothy and baby, Kitt moved to Arizona, where he worked at various jobs until 1952. They moved back to the family farm in Bickleton, where Clint, Edna and Tom were born. They lived on the family ranch until January of 1955, when Don moved his family to Republic, where he and his uncle Barney Roberts logged. Their son, Fred was born in Republic, the first baby to be born in the new nursery of the Republic Hospital.
In 1959 he moved his family back to Klickitat County living first in Goldendale then south of Centerville. In 1960 the family moved to the Jess Wherry ranch on Dot Road, where baby number six, Peggy was born. They moved back to Centerville in the spring of 1961, and Don continued logging for Bert Wilkins. A final family move was made in the summer of 1965, when they moved back to the family ranch southwest of Bickleton, where Don raised cattle and wheat and continued to reside until his death.
Don's greatest love was his wife and family followed by logging, team roping, teaching kids to ride and rope and anything having to do with horses. Don knew the Bickleton area like the back of his hand and always enjoyed helping his neighbors ride for and work their cattle.
He is survived by his wife, Dorothy; his children, Kitt Tallman, Edna Read and Peggy (Jim) Woodard, all of Goldendale, Clint (Sally) Naught of Cleveland/Bickleton, Thomas Naught of Portland, Ore., Fred (Cari) Naught of Cheney; his grandchildren, Donita Brownlee, Mikki Naught, Selena Naught, Cory Naught, Dusty (Brandie) Read, Becky (Luke) Baumeister, Renee (Lloyd) Tommila, Hillary (Aaron) Fitch, Katherine (Trevor) VanZanten, Jennifer Homer, Travis Naught, Shelby Naught, Joey (Rachel) Shirley and Joshua Shirley; his great-grandchildren, Jessa, Emma, Wyatt, Andy, Sam, Megan, Dawson, Calvin, Anthony, Tabitha, Henry, Frankie, Amber, Dalton, Shea, Sonora, Dominic, Pepper, Lincoln, Jasmyne, Zack, Brytnee, Ryder and Clara; and great-great-grandchildren, Cedar and Iris; honorary children, Serena (Mike) Williams, Martha (Neal) Slater, Patsy (Clifford) Nygaard, Gale (Randy) Blankenship, Lana (John) Stomieroski, Frank and Margaret Collins, and all their families; and numerous, stepgrandchildren, nieces, nephews and strays.
Don and Dorothy have provided a loving home for a multitude of children over the years. Don will be greatly missed.
Don was preceded in death by his parents; and one brother, Frank Naught
In lieu of flowers, donations may be made to the Bickleton Fire Department, the Carousel Museum, Alder Creek Pioneer Picnic Association or a charity of your choice.
A memorial service will be held Friday, April 25, 2014, at 11 a.m. at Bickleton Evangelical Church in Bickleton.
Smith Funeral Homes Ltd. and Crematory in Sunnyside is in charge of arrangements.