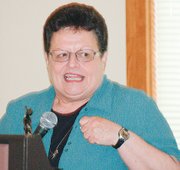 Karen Helsel is moving to Seattle soon, but she'll be keeping in touch with Sunnyside and keeping her sense of humor.
"I'll still be writing for the Daily Sun News," she said. "And I'll be back. I'm definitely coming back."
Helsel said she hasn't always had a good sense of humor. For a long time, she said, she was filled with anger.
"It's called non-specific rage," she told the ladies of the Nouvella Club last Thursday afternoon. "I knew I was angry, but I didn't know why."
She said as a child she remembers seeing a store with fancy glass creations on the shelves and thinking how satisfying it would be to just clear the shelves, breaking everything.
"I didn't tell anyone," she said. "I didn't know why I felt that way."
She said she depended on the opinions of other people.
"I depended on people outside of me to tell me I was OK, to make me look good or feel good," she said. "It didn't work out too well."
As a result she became a person who took care of others, including finding a husband who needed her to take care of him. It led to an unhappy marriage, with hidden problems, including the fact that her husband had suffered from sexual abuse as a child.
Helsel said her life started to turn around when she had a child and needed a little extra time in the mornings to relax with coffee and a newspaper. She said she made a deal with God that if he helped her son sleep in a little longer, she would read the Bible before she read the newspaper in the mornings.
"God kept his part of the bargain, so I kept mine," she said.
She said the faith she gained gave her the strength to get through the revelations about her husband's past and to start to forgive him. But she said she was still angry.
"I didn't know how angry I was," she said.
She started a 12-step program at the suggestion of a friend, and it started to help her deal with her anger. She told of a co-worker who approached her one day to ask what had happened.
"She said she was afraid to go past my desk before," said Helsel. "I was so angry that I scared her. But I changed."
In 1995 her life was dealt another blow when her husband was diagnosed with Huntington's Disease. She said she cried out to God and said that she hadn't signed up for this.
"God's answers are usually short," she said. "And He said, 'yes, you did.' That's what 'in sickness or in health' means."
She took care of her husband as long as she could, but she still felt that core of anger.
On a trip to Thailand she finally worked out that she was angry at God, and was able to let go of it.
"I broke through that core of anger and it went away," she said. "When anger goes away, there is room for joy. Make room for joy in your lives."
Helsel said that a person can be humorous when they are angry, but the humor is also full of anger.
"Bob Story tells me I can write sarcasm in my column if I want," she said. "But I just can't. That's an angry sort of humor."
Helsel is moving to Seattle so her husband can be with more members of his family in his final years. She said she plans to return someday.
"I don't want to be all Arnold Schwarzenegger and say, 'I'll be back,' but I'm coming back," she said.
She urged the women of Nouvella to use humor in their lives and allow joy to replace anger.
"We can all uplift and inspire an entire city," she said. "Use your humor wisely and heal your hurts."